Sophomore Seeks 'Beauty Empties' for Recycling Competition, Scholarship
03/29/18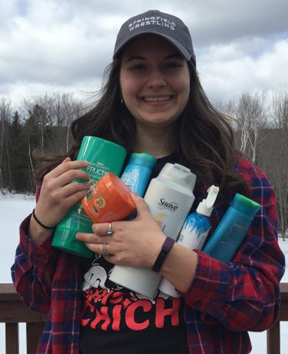 Abbi Luczynski '20 of Florida, Mass., needs your help as she aims to help divert one million "beauty empties" from landfills this year. Her goal? To collect 5,000 empty beauty and personal care recyclables so she might win a $5,000 scholarship through DoSomething.org's "Rinse, Recycle, Repeat" competition.
Almost half of Americans don't recycle their beauty and personal care products. As a result, they take up a significant amount of landfill space, said Luczynski, who majors in elementary education and interdisciplinary studies. Once collected, the packaging will be recycled into pelletized lumber to create items such as picnic tables, playground equipment and benches.
"I'm very passionate about recycling," Luczynski said. "I love the idea of taking something and turning it into something new. In my free time, I often make crafts, using materials to create something new. To me, recycling is kind of like crafting, although it makes a larger difference."
Her collection boxes are centrally located on each floor of Murdock Hall, Mark Hopkins Hall, the Freel Library, the Amsler Campus Center, Bowman Hall, and the Feigenbaum Center for Science and Innovation. Students soon may find the bins in their dorm laundry rooms.
Leading efforts such as the recyclables drive is not new to Luczynski. She's a member of the National Society of Leadership and Success (NSLS), and treasurer of the Association for Neurological Awareness (ANA). She's also on the Undergraduate Curriculum Committee (UCC), and participated in the H.A.L.F. Times Program, which brings local elementary school children to Venable Gym to engage in physical activities and learn about healthy eating.
Her dream job is to become an elementary school teacher. "Since high school, I've wanted to help kids," Luczynski explained. "I especially want to help children with disabilities or from inner city populations. Those are the children that require the most care, to be supported throughout their learning, and inspired every day. I want to be the person who does that."
She is enjoying her MCLA education. "It's been great!" Luczynski exclaimed. "MCLA is helping me achieve this career. There are some professors that I can talk to as if I'm talking to a friend. They're always so helpful. The courses they teach are interesting and fun. I hope that I can teach my students with the same passion and desire for fun as my college professors."
In addition to her education courses, she heads over to nearby Williamstown Elementary School for five hours every week to help students with individual and group work, and to teach lessons.
Some of her favorite things about MCLA's campus: are the quiet floor in the library where she can do her homework, the campus' bike share program, a Subway sandwich shop in the Campus Center, and the College's new Feigenbaum Center for Science and Innovation.
However, "My favorite thing about MCLA is the people. I have made some amazing friends here. The people at MCLA are intuitive, eclectic and inspiring."
A national campaign that includes 50 college campuses, "Rinse, Recycle, Repeat" runs through April 30. The winner also will receive a community garden for their school. For more information, email Luczynski at al6075@mcla.edu.