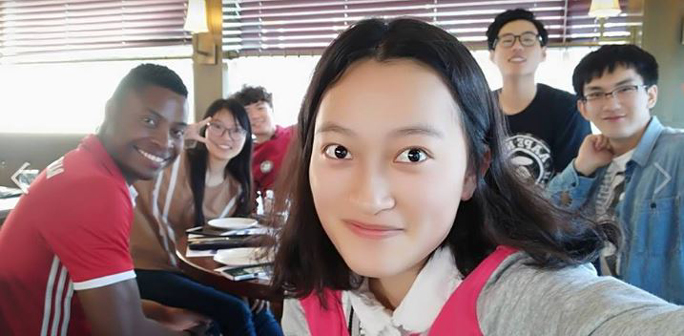 Above, Yuki Li '18 with some classmates.
Chinese Exchange Student Wraps up Business Degree at MCLA
05/10/18
As part of MCLA's 2+2 Dual Degree Academic Exchange program with Shanghai University of International Business and Economics (SUIBE), Yuki Li '18 of Suzhou City, Anhui Province in China not only will earn her Chinese degree but also another bachelor's degree here in the United States, once she graduates from MCLA at the end of the summer.
This will enable Li – a business administration major with a concentration in accounting – to become a certified public accountant (CPA) in both countries. "I decided to study accounting because I did well in this field in China," she said.
Further encouraged by Tara Barboza, assistant professor of accounting at MCLA, Li decided on a career in auditing. "Auditing is the extension field of accounting, and it's the essence of being a CPA. I am good at numbers and I am extremely serious about data accuracy," she said. "Auditing is a growing industry."
Li recently participated in an accounting workshop in Boston, hosted by PricewaterhouseCoopers. She also is a member of MCLA's chapter of the national business honor society, Delta Mu Delta, and participated in the Asian Club last semester.
"These activities expanded my knowledge about MCLA, and helped me make friends and to practice my English," Li said.
However, one of the best parts of her experience is the group of friends she has made. "They are very kind to me, and invite me to Boston to stay with their families," Li said.
Last fall when she arrived at MCLA, Li was accompanied by four other exchange students, all of whom studied at the College for one semester. However, Li opted for a full year because of her career plan. By earning extra credits and continuing coursework through August, and with help from MCLA faculty to transfer course credits to the College, she will qualify for dual degrees.
There are many differences between China and the U.S., Li explained. She enjoys residence life in Hoosac Hall, and is even learning how to cook. She is working harder at MCLA than at Shanghai University – not only because continues to learn English, but because of the "the close and frequent communication between students and faculty in the small classes."
Because American culture is multi-national, "I learned a lot, and have become more open since I came here," Li said. China, on the other hand, features just one political party, which is the Communist Party.
"China is safe and peaceful, but the job markets are hard to jump into because of the increasingly well-educated population," she said. "I have become close to all the professors in MCLA's business department."
So far, Li has visited Albany, Boston, New York, Washington D.C., as well as nearby Williamstown and Pittsfield. After she finishes up her coursework at the end of the summer, she plans to get an internship – either in the U.S. or China. "If I could apply for graduate school this fall, I will stay here for my master's degree," she said. Otherwise, I will go back to China and decide what I am going to do next."