From top to bottom, Stefani Skerry '18 at Mount Inari, and one of her favorite sculptures at the site, Melissa Sirikan '19 at the Ginkakuji Silver Pavillion temple in Kyoto, and Tokyo at night.
Journey to Japan Includes Bonus Stopover in China
05/23/18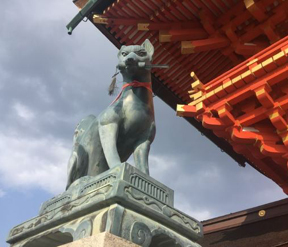 It's been many times that history professor Dr. Kailai Huang has led a travel study course trip to Japan over a spring break, but this year marked the first time a group also visited China.
"To make this trip even more rewarding was a long layover on our way to Japan," Huang said. "Students also had a chance to tour the Forbidden City and Central District of Beijing." Once in Japan, the students explored destinations such as Tokyo, the world's largest metropolis; the ancient capital Kyoto, gateway to Japanese Alps Nagoya; the castle town Matsumoto, and the seaside city Kamakura. "Traditions and modernity are juxtaposed in each of these places."
After spending a day in China on their way to Japan, Andrew Pietrykowski '19 of Guilderland, N.Y., noticed some major cultural differences between the two countries, and also the United States. "I met some of the nicest people in my life while I was in Japan," he explained. "Everyone in Japan was very helpful, and very respectful. ... I've always been fascinated by their history and culture. All of my expectations were completely blown away."
Like Pietrykowski, the trip marked the first time that Stefani Skerry '18 of Holliston, Mass., traveled outside of the U.S. "It was a surreal experience to cross over the ocean and step off the plane in a different climate, where the air tasted different and all the signs were in a different language. It gave me a rush, it was so exciting," she said.
"My favorite place we visited was Fushimi Inari shrine in Kyoto, located at the base of Mount Inari. It's famous for housing thousands of 'torii' shrine gates that lead through a forest to the top of the mountain," Skerry added. "Its fox statues and stone altars were stunning, and in spite of the fact that the entrance to the shrine was crowded, the forest was beautifully still and peaceful."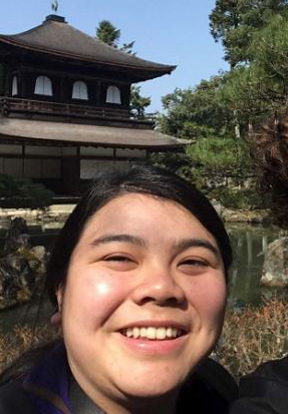 The opportunity to eat sushi in Japan, Skerry said, "was a 'religious' experience. I've been craving it ever since." She also enjoyed staying at a traditional Ryokan inn, where the group wore "yukata" and enjoyed a formal banquet dinner. "I was nervous about remembering etiquette, but it was a lot of fun!"
Although Melissa Sirikan '19 of Windsor, Mass., previously had traveled outside U.S. many times, including to Thailand last summer with her family to visit relatives and friends, she had never been to Japan, something she had dreamed of doing, ever since she was in middle school.
"The best part was the food!" Sirikan said. "Not only was it delicious, but it is also brings you closer to the community. The locals were very kind to us."
Sirikan continued, "The restaurant owners were very happy to see foreigners exploring their dishes, and showed us how to eat it. Another time, my friends and I went to a restaurant in Ikebukuro to eat okonomiyaki, a type of savory pancake with various ingredients, or what a local told me was their 'Japanese pizza.' A customer at the restaurant was ecstatic to see foreigners and tried to talk to us using an app on his phone that helped translate our conversation."
The most important part of the trip, Sirikan added, was experiencing the culture. "I absolutely loved it, and I can't wait to go back again."