Above: View student reactions to Dr. Ely Janis' Civil Rights Movement bus trip. Below (top), Lakeria Darkins '20 with 1960s Freedom Rider Rip Patton, and (bottom) the entire group in front of the North Carolina Agricultural and Technical University.
Living History: Students Explore Civil Rights Movement Where It Happened
05/30/18
Lakeria Darkins '20 of North Adams, Mass., thought she was familiar with the Civil Rights Movement before she took Dr. Ely Janis's history course on the topic, then traveled with him and other students throughout the American South to see where history happened, speaking along the way to people who were on the frontlines of the experience. The result was eye-opening.
"This trip will forever impact me," Darkins said. "There were so many things that I thought I knew, but realized I truly didn't know." Although she expected to learn more about the history of African Americans in this county, she also discovered more about America, and about herself.
"People are never going to truly understand what happened during the Civil Rights Movement unless they hear from the people who lived it, or visit the places where this history took place," Darkin explained. For instance, "I had no idea that Rosa Parks was not the first person to be arrested for refusing to give up her seat on a bus."
She continued, "Seeing Dr. Martin Luther King Jr.'s house, going to the Lincoln Memorial, walking the bridge where the Selma to Montgomery March took place back in the 1960s, going to the different museums, and being where civil rights activists were really touched me. I also loved talking to the speakers who were alive during this time, and hearing their stories."
Rae Ross '18 of Ithaca, N.Y., agreed. "The trip was fantastic. It was a great chance to have a truly immersive experience with history. The sites we visited really gave me insight into the Civil Rights Movement that I would not have gotten from just reading about it, or by watching documentaries," she said. "My favorite part was our tour of Selma, Alabama, led by Civil Rights advocate Joanne Bland, and our visit to the Civil War Memorial in Montgomery, Alabama, where we learned about the Southern Poverty Law Center," a legal advocacy organization that specializes in civil rights litigation.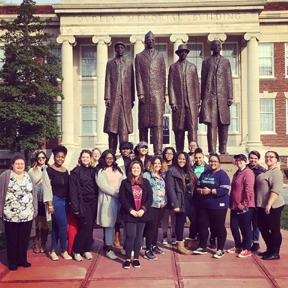 Like Darkin, Ross said the most valuable part of the experience was to meet some of people who were involved in the movement. "Hearing about their experiences and being able to ask them questions was an irreplaceable experience."
However, "The greatest impact that the trip had on me was the reminder that I have a much bigger role to play in the world around me than I thought. Especially as students, it is easy to get wrapped up in the stress of our everyday lives and forget that we also are able to make changes on a much greater scale, if we're willing to stand up," Ross said.
Lorinda Kalajian '20 of Framingham, Mass., realized there is much more that needs to be done. "I have found a place inside of me that wants, and needs, to step up." A double major in history and English/communications, she wants to write historical fiction that accurately portrays the past.
Because she is considering going to graduate school, Kalajian said if she decides to continue her studies after completing her bachelor's degree, she now would apply to a school in the South that is close to one of the sites she visited on the trip, which many who took part in the Movement actively are trying to preserve. "There is still much that I can learn."