Psychology Student Wins Pamela Dennis '82 Scholarship
05/05/18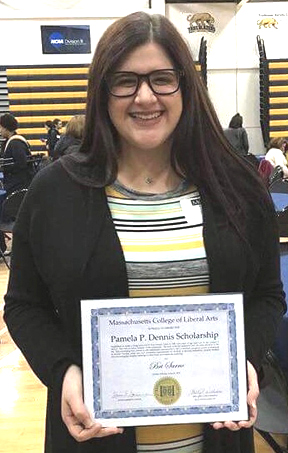 When Bri Sarno '19 of Ashland, Mass., took part in the campus's 16th Annual Undergraduate Research Conference (URC) in April, she not only had the opportunity to hone her presentation skills, she learned that she had been selected as this year's recipient of the Pamela P. Dennis '82 Scholarship.
"I was unbelievably surprised to hear my name called for this scholarship," said Sarno, who works two jobs to support herself as she attends college. "This is such an incredible honor."
A psychology major with a minor in applied behavior analysis, Sarno is a two-time URC participant. In spring 2017 she and fellow students examined the relationship between aggression and driving behavior.
This year, she presented a study that focused on her investigation of different reinforcement schedules involving duration requirements and reinforcement delays.
Sarno, who next plans to pursue a graduate degree in applied behavior analysis, opted to attend MCLA due to the financial advantages afforded to Massachusetts residents.
"MCLA stood out to me because of its behavior analysis program, as well as its small and intimate campus. I like having less than 20 students in almost all of my classes," she said.
"I absolutely love the psychology department at MCLA, and my extraordinary professors have given me so many opportunities. From offering interesting courses to independent research projects, I have never lacked for interesting academic experiences," Sarno said. "I have worked closely with professors doing research, and next will be doing some really cool independent studies during my senior year, which will be a great opportunity to challenge myself academically on my own, outside of the classroom."
She recommends MCLA to prospective students who prefer a small school atmosphere, without the private school tuition price tag. "My philosophy about college is that you get out of it what you put in, and if you seek out opportunities at MCLA, you will find them," she explained. "It's so easy to connect with professors, and there are lots of clubs and organizations to become a part of."
With a passion for working with children with disabilities, Sarno's dream career is to become a board-certified behavior analyst so she might help children, as well as adults, with behavioral issues.
In addition to her work as a residence area security monitor on campus in Berkshire Towers, she serves as an academic tutor for several psychology classes.
"I really love tutoring because it makes me so happy to share my knowledge of psychology to help students improve in their classes, and it helps me keep up with material from past classes. I find that I know the material even better once I explain it to other students, even several semesters after I have taken the course." 
Sarno is very grateful to have received the scholarship, and to be recognized for her research. "It's a reminder to continue to keep going," she said.
"More than just surpassing the expectations of others, I have exceeded my own expectations for what I can accomplish. Receiving recognition for my determination and resilience in honor of such an amazing woman, Pamela Dennis, is more fuel for the fire within me to always strive to keep going."