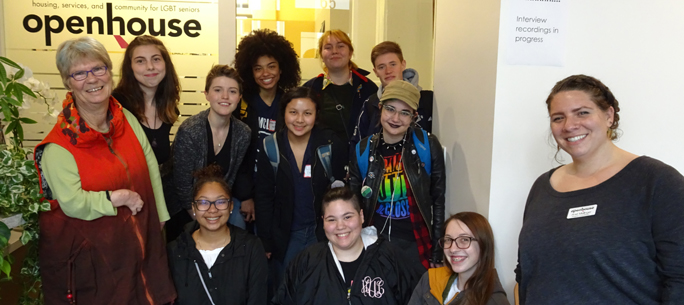 From left (back row) Maya McFadden, Iris McPherson '20, Julie Gambill '21, (middle) Natalie Hughes '20, Leah Eve-Cowles, Lianne Gallant '19, Emery Bibbins '20, and (front) Dr. Sumi Colligan, Karissa Barbosa '20, Heather Upton '21, Bridget Broyles '20 with Ariel Mellinger of Open House, which does LGBT community outreach and programming in San Francisco, and provides affordable housing location services.
'Queer San Francisco' Trip Provides Life-Changing Experiences
05/16/18
Led by anthropology professor Dr. Sumi Colligan, who grew up in San Francisco, Calif., MCLA students had a unique opportunity last year to explore queer history in that city. As a result of the success of that first trip, Colligan returned this past spring with nine more MCLA students who were eager to learn more of San Francisco's rich LGBT history.
Although most of the activities and visits remained the same, one change included an organized tour of the Castro neighborhood. Also new was a visit to a health center that until very recently was called the Asian and Pacific Islander (API) Wellness Center. "They were the first to do AIDS prevention and treatment and provide transgender health services for San Francisco's API population," Colligan explained. 
In addition, "We met with a transgender activist who was instrumental in getting the Tenderloin neighborhood recognized as a trans historic district by the city of San Francisco. We also sat in on a planning meeting for this neighborhood that included discussions on affordable housing and the commissioning of a special mural," Colligan said.
Karissa Barbosa '20, a sociology major from Boston, Mass., said learning the history as part of  the course, and then having the opportunity to visit the sites where events took place provided her with moments of "I remember this." On a visit to the LGBT Museum, the tour guide asked if the students knew about the Compton's Cafeteria riot of 1966. One of the first in LGBT United States history, it marked the beginning of transgender activism in San Francisco.
"The whole class raised their hands," Barbosa said. "It was an amazing experience to have been educated on such a moving topic.  ... Although I don't identify as part of the LGBTQ community, I find myself as an ally to many of my queer friends. This experience was to better educate myself on how to support them."
Lianne Gallant '19, an English/communications major from Peabody, Mass., who aspires to become a professor of literature, with a focus on feminist and post-colonial theory, said the trip solidified her interest in studying gender and queer studies in graduate school. Sociology major Bridget Broyles '20 of South Hadley, Mass., added, "San Francisco was absolutely life-changing."
"I experienced things that will forever change my perspectives on activism, empowerment, and inclusion," Broyles explained. "As a future social worker, this trip opened my eyes to new ideas and perspectives that I will likely be dealing with throughout my career. ... The social work code of ethics states that all human beings have inherent dignity and worth, and I feel this trip gave me so many new resources that will help me live that truth in my career as a social worker."
Iris McPherson '20, a double major in interdisciplinary studies and sociology from Hilo, Hawai'i, called the opportunity to participate in the trip "the most amazing experience" she's ever had. "As a queer person it was so powerful to be in this space that is such an integral part of my community's history. I've never been somewhere where being myself is so unquestioned."
"Going forward," McPherson said, "I'm going to love and express my gender in all its complexities. Going forward, I'm going to be more fearless. Going forward, I'm going to purposefully let that breath go. Going forward, I'm going to be myself."