From left in the front row are Jacob Davis '20, Crystal Wojcik '21, Dr. Jenna Sciuto and Lianne Gallant '19. Middle row, from left: Amanda Romanelli '19, Emily Tarnawa '20 and Allison O'Keefe '20. Top row, from left: Jacob Valenti '20, Ian Capelli, Iris McPherson '20, Noah Henkenius '21 and Dr. Justin Golub.
Students Present at Research, Scholarly and Creative Activity Conference
11/28/18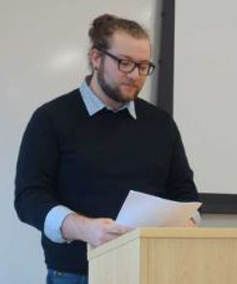 Ten students introduced their work to campuses across the Northeast this fall as participants of the Northeast Regional Undergraduate Research, Scholarly, and Creative Activity Conference (URSCA) at SUNY Geneseo.
MCLA undergraduate research co-chairs Dr. Justin Golub, assistant professor of biology, and Dr. Jenna Sciuto, assistant professor of English, led the student delegation, which included English major Jacob Valenti '20 of Haverhill, Mass. (pictured, right), who shared his poetry and forged connections with like-minded students. "Hearing other writers also allowed me to be influenced by my peers' works and see techniques I'd never heard or used before," Valenti said.
According to Golub, "The opportunity to present at a conference is a wonderful and rewarding experience for students. They get to share their work with others outside of the MCLA community, which allows them to make connections, especially with those that have shared interests."
Although she typically paints landscapes or flowers, Amanda Romanelli '19, a fine and performing arts major from Bellingham, Mass., brought quite a different piece to the conference. "Pulchritude" (below, right) explores "beauty with age," she explained.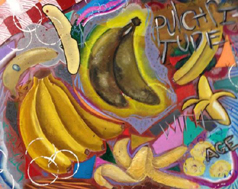 "I enjoyed seeing people's reaction to my painting," Romanelli said. "Everyone who encountered it immediately asked me to explain what it was all about." As she repeatedly explained the conceptual meaning of her work, "I learned more about it myself." 
Environmental studies major Noah Henkenius '21 of Plymouth, Mass., gave a presentation titled "Impact of Ticks on Breeding Birds in the Northern Berkshires," a research project he did over the summer through MCLA's Undergraduate Summer Research Institute.
Business student Crystal Wojcik '21 created a poster that investigated the goals of various Federal Reserve chairpersons, and examined the state of the United States economy, along with a prediction for its future. "Presenting my work was a feeling like none other, because I was so excited to share my findings with the world," she said.