MCLA Bio Student Also An Elite-Level Cyclist
10/03/18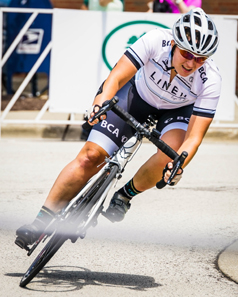 In the classroom, Paige Williams '20 of Shaftsbury, Vt., is a biology major who concentrates in pre-medical studies and minors in chemistry as a result of her keen interest in exercise and human physiology. Outside of school, you can find this elite-level cyclist on the road throughout the Berkshires and southern Vermont as she trains to compete as a USA Cycling collegiate athlete in road racing and cyclocross events throughout the region.
"Cyclocross is a blast! It's somewhat like a road race, meshed with a mountain bike race. Some say it's like steeplechase on bikes," Williams explained. "Races are typically 45 minutes and have a bit of pavement, a bit of grass, a bit of technical riding, and just a bit of running with bikes, over barriers. It's super intense."
Since age 14, she has competed road races, which average about 60 miles over hilly or flat terrain. Her favorite type of race is a criterium or "crit," a multi-lap event on a closed-circuit track.
"I like the speed, intensity, tactics, and the sprint ability that crits require. They are exciting, because as the race plays out, a plan has to be formed and modified, and modified, and modified," Williams said.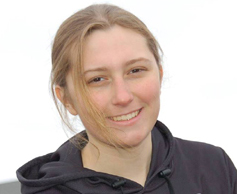 In January, Williams placed 12th in an elite, U23 (under age 23) women's race in Hartford, Conn., where she represented MCLA. "I gave the course, which was super technical and muddy, everything I had," she said. "I'm looking to go back and score a top five in the national championship this year, which, given my current fitness and ability, feels like a reasonable goal."
In addition to earning a 4.0 GPA, Williams trains for an average 16 to 17 hours each week, as she combines ride time with yoga and going to the gym. A member of the Berkshire Cycling Association, she frequently cycles throughout the Berkshires. "The cycling community in the Berkshires is fantastic," she said.