Bio Grad Shines as a BMC Nurse
09/12/18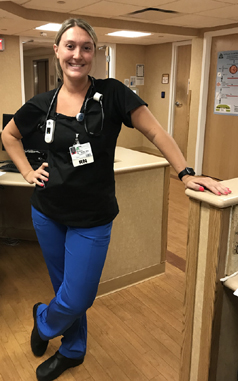 When Susan Bloom '16 decided to earn her Bachelor of Science degree in biology at MCLA, her original intention was to become a physician's assistant. However, after learning more about what nurses did while doing clinical work in the nearby emergency room at Berkshire Medical Center (BMC), she fell in love with nursing and decided to make it her profession.
She went on to enroll in the ACCEL, a second degree accelerated bachelor of science in nursing (BSN) program at the Curry College of Nursing in Milton, Mass. According to Bloom, she was well prepared for this competitive, intensive program thanks to her MCLA studies in biology.
At MCLA, "I received a really great background in science, and learned how to study for difficult subjects," Bloom said. The College's biology program also prepared her to learn more about various drugs and medications as part of her nursing program at Curry: she already knew about the pathways they interact with from coursework she completed as an undergraduate.
Now a registered nurse on the medical-surgical unit at Berkshire Medical Center in Pittsfield, Mass., Bloom is responsible for proper medication administration, documentation and care of patients on the floor, and work with other members of the interdisciplinary team to provide safe patient care.
"As a nurse, I love that I am able to build relationships with my patients. Growing up, my dad was sick with cancer, and I remember the nurses being so nice to me and making me feel safe. I try to do that with all of my patients. Whatever they need, I will try my best to give them. There is nothing better than standing outside a room and hearing the roommates tell each other what a great nurse you are! I can't wait to grow in this profession," Bloom said.