English Grad Lands 'Dream Job' at The Clark
09/20/18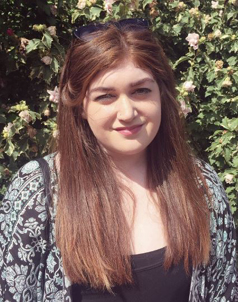 Nicollette Tanzi '17 recently began work at The Clark in Williamstown, Mass., where she is the membership assistant in the museum's advancement department. An English/communications alumna, she calls her new position an "absolute dream" in part because it allows her to work in the Berkshires' vibrant arts community.
"The best part of my job is the fact that I'm actually working here! Since moving to the Berkshires in 2015, I visited The Clark and other local museums often," Tanzi said. "Meeting fascinating people from all over, being around and learning about beautiful works of art, and getting a hands-on experience of how a museum operates are just a few reasons why I love this job so much."
Because her department at The Clark is small, Tanzi says she wears many different hats. "We arrange and attend member-only events such as gallery talks, an annual champagne toast for new members, and a variety of other events. There's a lot of data entry involved ... [and] I also work the membership desk at admissions during the summer, which is our busiest time."
As an undergraduate, Tanzi wrote for and served as an editor-in-chief of The Odyssey, an online publication. After one of her supervisors at The Clark read one her articles about how to stay organized, "they decided to hire me!" Previous to this new position, she gained museum experience at North Adams' Museum of Dog, which Tanzi believes contributed to her securing her new job.
According to Tanzi, MCLA's beautiful and serene setting, along with its up-and-coming artistic and progressive community, prompted her to remain in the Berkshires after she graduated. "MCLA also gave me the tools and confidence I needed to begin my journey into the adult post-collegiate world," she added. "I wouldn't be where I am today if it wasn't for MCLA."