Meet MCLA's New Comp Sci Professor, Dr. Guodong Wang
09/26/18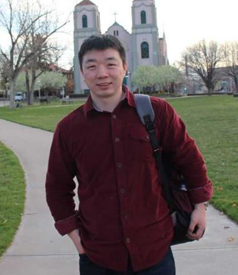 The newest member of MCLA's Department of Computer Science, Dr. Guodong Wang, is particularly interested in the ways that technology allows us to interact.
"Computers and computer networks have been changing the way we live, work, and learn. It is amazing that people can have a video call even if they are thousands of miles away from each other," Wang explained. "My curiosity about computers and computer networks encouraged me to explore the details of computer science and pursue my Ph.D.  I believe the demand for networks with high‐speed, secure and reliable communications continues to increase rapidly, so teaching students in this field gives me a great sense of satisfaction."  
Prior to joining MCLA, Dr. Wang was a research scientist in the Department of Electrical and Computer Engineering at the South Dakota School of Mines and Technology. He specializes in optimizing the performance of computer networks and adopting future network architectures to achieve more efficient and secure communications.
His current research focuses mainly on computer networking, software defined networks, the Internet of Things, and smart grid networks. "All these technologies are expected to increase the efficiency of communications and further change our world," Wang said.
He has published more than 30 technical papers and served as a chair and reviewer for more than 50 peer-reviewed journals and conferences. Highly recognized and accomplished, his many honors and leadership in the field include his most recent responsibility as the workshops chair of the Ninth Annual European Alliance for Innovation International Conference on Big Data Technologies and Applications, held Sept. 4 and 5 in Exeter, United Kingdom.
"Computer science is a practical field, and the software industry requires teamwork," Wang said. "I believe students should have extensive hands‐on experiences in solving actual problems, rather than just a theoretical study of the subject."