New Creative Writing Prof Focuses on Fiction, Friendships
09/05/18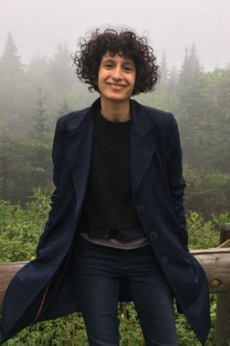 The newest member of MCLA's Department of English/communications brings to campus her expertise in creative writing, particularly fiction. According to Assistant Professor Dr. Caren Beilin, pursuing an arts-oriented education was her way into college, "to initially understand it as something accessible, even exciting, and worthwhile. I wanted to immediately start playing, be creative, and to find community."
A turning point for Beilin happened in a class that encouraged her to read books with more normative texts, such as Jane Austen novels that feature routine marriage plots, "but then reading them closely, and maybe with a bit of paranoia, so that you might begin to see the ways these books, too, misbehave."
As a result, "I began to see things as complicated, divvied in their core, and with endless variation. I started to feel so much freer. My fiction writing became so different, so exciting to me. I realized I was indebted to my professor forever and would always keep these books on my shelf wherever I moved, in their own section like a touching graveyard to that momentous and dear time," Beilin explained.
In addition to her previous work teaching at the University of the Arts in Philadelphia, Pa., Beilin served as lead consultant for the new feminist and LGBTQ+ library at Swarthmore College's Women's Resource Center in Swarthmore, Pa. For that work, she drew on her love for reading work written by women and LGBTQ+ authors, her doctoral studies, which focused on feminist and queer theory, and a burgeoning interest in women's health and disability studies.
There is much that she hopes her students learn from her, but mostly she would like them to learn ways to keep working at what they love. "I also hope my classes can be places where important, critical, life-intensifying friendships are made," Beilin said.