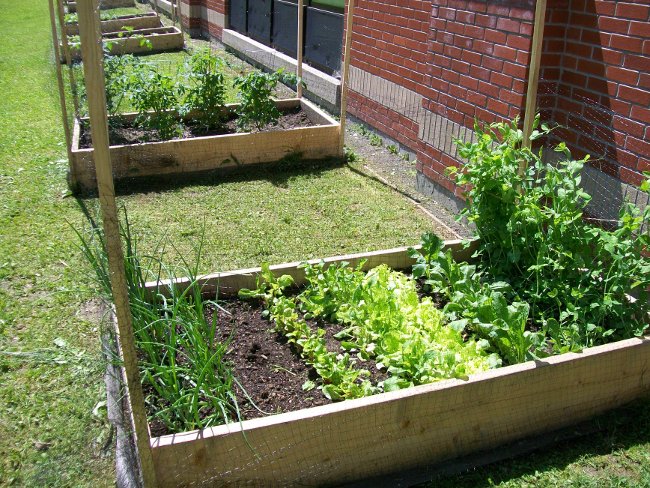 Raised bed gardens at Brayton Elementary School in North Adams built by the nonprofit Growing Healthy Garden Program. A Campus for Environmental Stewardship Grant has supported the work of four different MCLA classes studying food systems, and will also support supplies for new garden beds like these.
Four Ways to Look at Food Systems
04/03/19
A $4,500 Campus for Environmental Stewardship grant is supporting the work of four MCLA classes studying food systems, as well as a local nonprofit.
Professors Anne Goodwin, Anna Jaysane-Darr, Nicole Porther, and Elena Traister—all in different academic disciplines at MCLA—are working with their classes and the Growing Healthy Garden Program to look at access to food in North Adams and on campus. The opportunity allowed four distinct classes at MCLA to explore food insecurity issues from multiple angles, from local anthropological research to offering nutrition information.
Students in Assistant Professor of Anthropology Jaysane-Darr's Fall 2018 Global Health class kicked off the project, doing qualitative research at food distribution sites in Berkshire County. They interviewed people coming to pick up food, asking about their experiences accessing food, what their ideal meals would be, their health concerns, and what they wish food access sites would offer. Among other things, they discovered high rates of hypertension in this population—identifying a need for food distribution sites to offer low-sodium options.
The students in Jaysane-Darr's class prepared a report, then passed it on to Biology Professor Anne Goodwin's Spring 2019 Nutrition class, which prompted Goodwin to design a class project around that data, finding ways to use a food access point and still adapt to a low-sodium diet. 
"It wouldn't normally be so practical to have this level of collaboration going on," said Goodwin. "We didn't even design our projects until we heard from Anna's group. It's interesting to see such different perspectives pointed at the same problem."
Also in Spring 2019, Environmental Studies Professor Traister's Politics and Environmental Policy course used data from Jaysane-Darr's class to explore multiple projects related to food access and local policy—small groups of students surveyed food establishments to see how they dealt with food waste; offered ideas around a community composting program; researched and recommended ways to deal with food access for the North Adams West End neighborhood; and connected with dairy farmers to vet the idea of creating local value-added dairy products.
To bring it all back home, Biology Professor Porther's Spring 2019 Research Methods in Epidemiology class is currently working to address food insecurity at MCLA. Students worked with the College's dining service provider, Aramark, to package and freeze excess food and make it available to students via the college's food pantry twice a week—and to adopt new, extended hours at the P.O.D. market in the MCLA Campus Center to bridge the time gap for students who have labs during dining hall hours. (Aramark is currently piloting new later hours at the market on Tuesdays and Thursdays.) 
Through this grant, Jen Munoz, facilitator of the Growing Healthy Garden Program, will receive financial support for more garden beds in which to grow healthy food for the community—and she has consulted on the various classes' projects, reviewing interview questions for Global Health students, meeting with Politics and Environmental Policy students to offer guidance on their ideas around alleviating food insecurity, and helping Nutrition and Research Methods in Epidemiology students refine their service project ideas.
"Food security is a huge issue in our community, as well as on campus," said Munoz. "Many MCLA students are from local families who may be food insecure. It makes sense for everyone to become more familiar with this issue, and it is often intertwined with class-ism, racism, sexism, and immigration, all of which are hot topics in America right now. Working with students on this issue from many directions at once forces me to reevaluate what I know, and think I know, about food insecurity in North Berkshire. It also helps to weave the fabric more tightly between MCLA and the larger community."
Funded through the Davis Educational Foundation and administered through the University of Southern Maine as part of the Campus Compact of Southern New England, the grant is meant to support interdisciplinary work connected to service learning opportunities for students. The students involved in this project will present their work at a mini-conference during MCLA's annual Undergraduate Research Conference on April 18. 
"It's a new model for how our classes can communicate with each other across disciplines," said Jaysane-Darr. "It's great to see our students benefit from those interdisciplinary conversations, and be able to see there are connections between what's happening in nutrition, environmental policy, and global health."