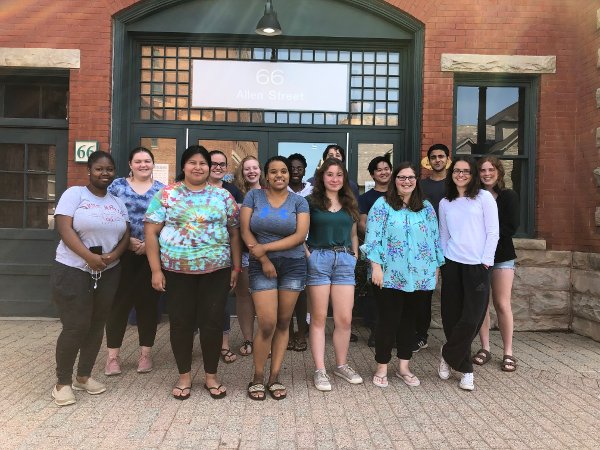 Fourteen rising seniors from Berkshire County have completed MCLA Summer Academy, which gave them the opportunity to earn college credits and learn about the college search process.
Hard Work and Dedication at MCLA Summer Academy
08/01/19
Allison Henderson wants to be an obstetrician someday. Dylan Woodham is considering a career in accounting or civil law. Mahaoganye Davis plans on becoming a detective. Dakota Robitaille isn't sure what she wants to do yet, but she knows she wants a career that will offer stability and a high standard of living.
Now, these four rising seniors—all students at Pittsfield High School—have a better picture of how to reach those goals. They and 10 other rising seniors from Berkshire County have completed MCLA Summer Academy, which gave them the opportunity to earn three college credits and learn about the college search process including applying to college, financial aid and making a final decision.
If all goes well in the next few years, Henderson, Woodham, Davis, and Robitaille will be the first in their families to graduate from college. "It's all new for all of us," said Robitaille.
MCLA partners with the Massachusetts Department of Higher Education and Adams Community Bank to offer the four-week program, which includes a three-credit Introduction to Statistics class as well as a college readiness class, all taught from MCLA-Pittsfield, the College's location on Allen Street.
High school counselors recommend the program to students who are planning to attend college but may need some additional support. The goal isn't necessarily for them to attend MCLA or another state institution; it's to empower them and get some of the basics out of the way before their senior year of high school. 
In four weeks, they research colleges, learn time management skills, write their college essays, and decide what kind of college experience would be best for them. Some of them apply for internships and develop their resumes. 
They also hear from local professionals about topics like financial aid and scholarships. Kris Bona, assistant VP of community relations at Adams Community Bank, visited the students to talk about financial literacy. 
 "Supporting and promoting our community is one of Adams Community Bank's core values," she said. "Some of the best examples of this are the programs that we sponsor to benefit our local high school students. Many of the decisions these students make within the next few years about saving, education, and careers can either expand or limit the choices they will have later in life." 
"They're trying to balance this program, part-time jobs, family responsibilities, and most of them are taking AP courses that require summer work also," said Ann Marie Mutz, MCLA Summer Academy coordinator and a full-time counselor at Pittsfield High School. "They're a truly amazing group of young people."
Judy Clarno, their statistics professor and an adjunct at MCLA, agrees. "This class is very fast-paced," she said. "It takes someone that's motivated and dedicated to keep up with it. You have to realize, they have just come out of a full school year. But they want to be here and they want to do it. They want to be on top of this work."
"After seeing the outline for the Summer Academy and all that would be accomplished during it, I thought how lucky these students were to be accepted into the program," Bona said. "I had the opportunity to chat with them following my financial literacy class and I was really impressed with how engaged they were in sharing their education and career plans."
Mutz usually arrives at MCLA-Pittsfield at 8 a.m.; often, there are three or four Summer Academy students waiting there for her. Clarno is here 30 minutes before her class starts to offer tutoring support. "Almost every student has taken advantage of that," Mutz said.
"I wanted to do this so colleges consider me more," said Woodham. "Also, three college credits are three college credits—I'm not complaining!"
"I definitely feel dedicated to it," said Davis, whose high school counselor recommended she apply to Summer Academy during the last school year. "I filled out the application right there," she said. 
Henderson "was feeling overwhelmed about the college process," so she spoke to her high school counselor, who recommended the program. "It looks good on your resume," said Henderson. "Having more credits looks better—and it means you can be more decisive about the classes you take once you get to college."
Now that Summer Academy is finished, the 14 students will go on to other activities—summer college courses, their jobs, their family responsibilities. Mutz will be following up with them and their school counselors throughout the next academic year.
"As school counselors in Berkshire County, we know that with a student doing this program, we're going to empower them to believe in themselves even more and have that confidence for their senior year," she said. "That, for me, is the best. They leave much more independent."
***
Are you an MCLA student, alumni, or faculty member? Do you want MCLA to share your story? Please email Creative and Brand Strategy Manager Francesca Olsen at Francesca.Olsen@mcla.edu.