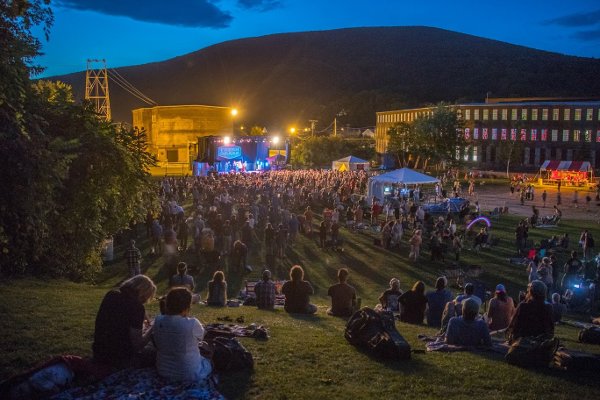 There's a lot to do right here on campus, in North Adams, and in the Berkshires—and a lot of it is cheap or free. Pictured here: Freshgrass at MASS MoCA. If you're inspired to do something on this list, take a pic and tag MCLA or use #MakeItMCLA.
Things for MCLA Students to do #intheBerkshires
08/07/19
Bored?
Good news! There's a lot to do right here on campus, in North Adams, and in the Berkshires—and a lot of it is cheap or free. We've created this list for you—refer back to it through the year when you have some free time but haven't decided how to spend it! Make the most out of your college experience. Make it MCLA.
On Campus
Big Prize Bingo presented by Student Activities Council: Come on down for your chance to take home prizes like a big screen TV, new laptop or even a mountain bike. Big Prize Bingo is presented by SAC once a semester and is one of the most anticipated events on campus!
SAC Spring Concert: Celebrities like Halsey and Bryce Vine have recently visited campus and put on amazing shows. Attend free or low-cost exciting concerts provided by SAC right here on campus. For more details, follow @MCLASAC on Facebook and Instagram.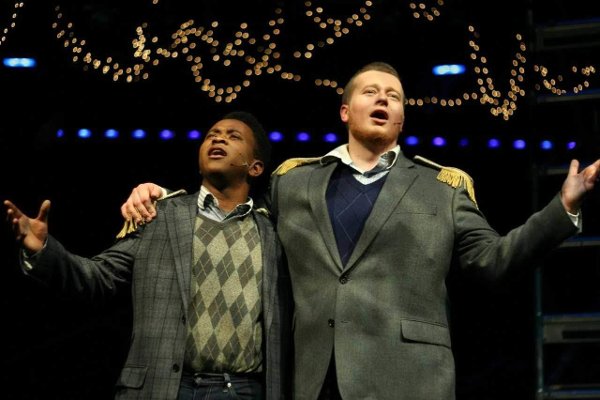 See an FPA production: Our performing arts students are incredibly talented, and so are the professional actors cast alongside them in FPA productions. Support your peers and the Berkshire theatre community by taking in a show!
Sit in the quad on a sunny day: Free and an integral part of college life!
Go on a SAC trip: New York City? Boston? What about a good, old-fashioned trip to Crossgates Mall in Albany? Follow SAC on social media to make sure you know about these regular—and cheap—travel opportunities.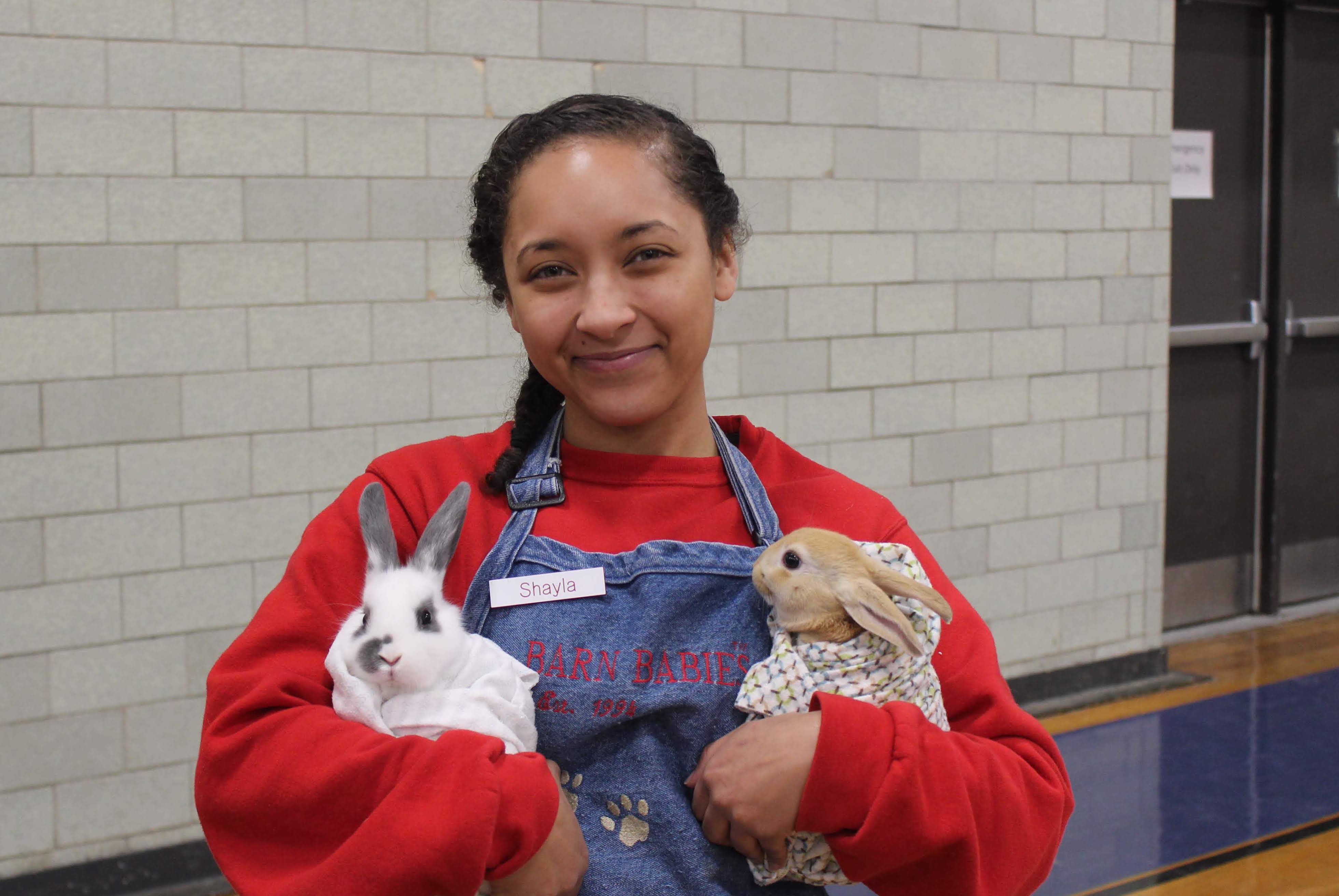 Barn Babies: Speaking of animals…every spring, SAC presents Barn Babies, where students can meet piglets, lambs, and sometimes even puppies, right here on campus! 
Attend an SGA meeting: Participate in local democracy! MCLA's Student Government Association holds meetings on Monday nights in Murdock 218. Follow them on social media for meeting details.
Catch up on current events: The Beacon, MCLA's student newspaper, is published weekly throughout the semester and has a companion weekly web newscast. Send a letter to the editor or attend a staff meeting for a chance to get involved.
Listen to some deep cuts: WJJW, the College's student-run radio station, broadcasts daily, with eclectic shows from students and community members. Turn it up and discover some new music or get your own show!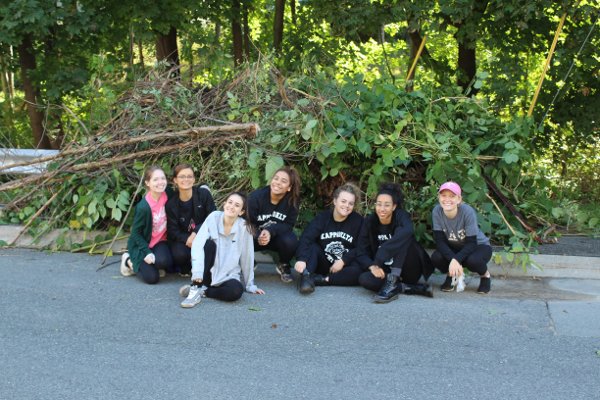 Spring and Fall Day of Service: The MCLA Volunteer Center gathers hundreds of MCLA students and community members for annual days of service. Give back to the community and participate! 
SAC fests: There's Welcome Fest, Spring Fest, Late Night Breakfast…you get the idea. SAC presents festival-like events every semester here on campus for students for free! Don't leave MCLA without attending at least one.
Cheer on our Trailblazers: You can even get a ride up to the Joseph Zavattaro Athletic Complex. Our 14 Division III teams work hard and play hard—check out the schedules at athletics.mcla.edu. 
Make it Fashion: The MCLA Fashion Club has a big fashion show every semester, and it's an impressive experience.
Dance Company Spring Show: MCLA Dance Company is AMAZING and holds a spring show at MASS MoCA every year. 
Late Night Grill: Bacon, sausage, eggs, French toast, tater tots, and a chance to win prizes! What more could you need to end your semester and start finals week in the best way? Join friends, clubs, faculty and staff for a fun and delicious night right before the start of finals week.
Midnight Madness: Connect with campus clubs and organizations during a fun-filled themed night put on by the National Residence Hall Honorary. Learn more about how to get involved by participating in games, activities and even getting some free food and swag!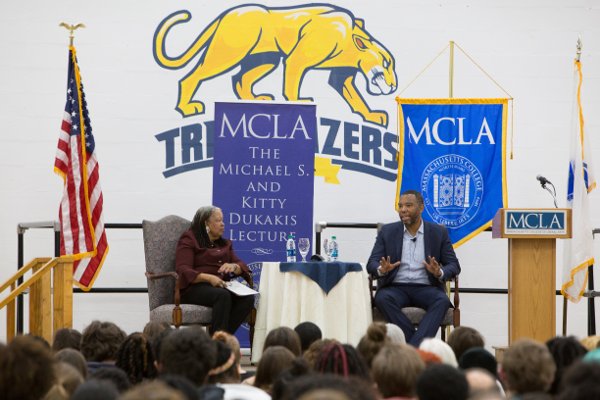 MCLA Fall Lecture Series: Cokie Roberts, Ta-Nehesi Coates, Gloria Steinem, and MANY other leading thinkers and writers come to campus for MCLA's Hardman, Michael S. and Kitty Dukakis Public Policy, and Lawrence Vadnais lectures every fall. They're always free and open to the public, along with other lectures in spring. 
The President's Ice Cream Social: Held at the beginning of every fall semester, it's a chance to learn about all the clubs and activities at MCLA—and eat free ice cream, served to you by the president, faculty, and staff! This year, it will be held from 12-4 on Sept. 12, 2019. 
Selfie Scavenger Hunt: President Birge is always happy to take a selfie with students—and so is Murdock, our Trailblazer mascot. 
Volunteer at Boo Bash: Every year, local children come trick-or-treat at MCLA residence halls. Help make their experience great via MCLA Residential Programs and Services!
Join a Club: If you don't, are you even a college student? Of course you are—you get to make your own choices in life. MCLA has 50+ clubs and it's easy to make your own, too.
Stargaze: Even though it's a small city, you can really see the starry sky on a clear night in North Adams. Bring a blanket out onto the quad and feel like a tiny speck of dust in the universe.
Off Campus/Indoor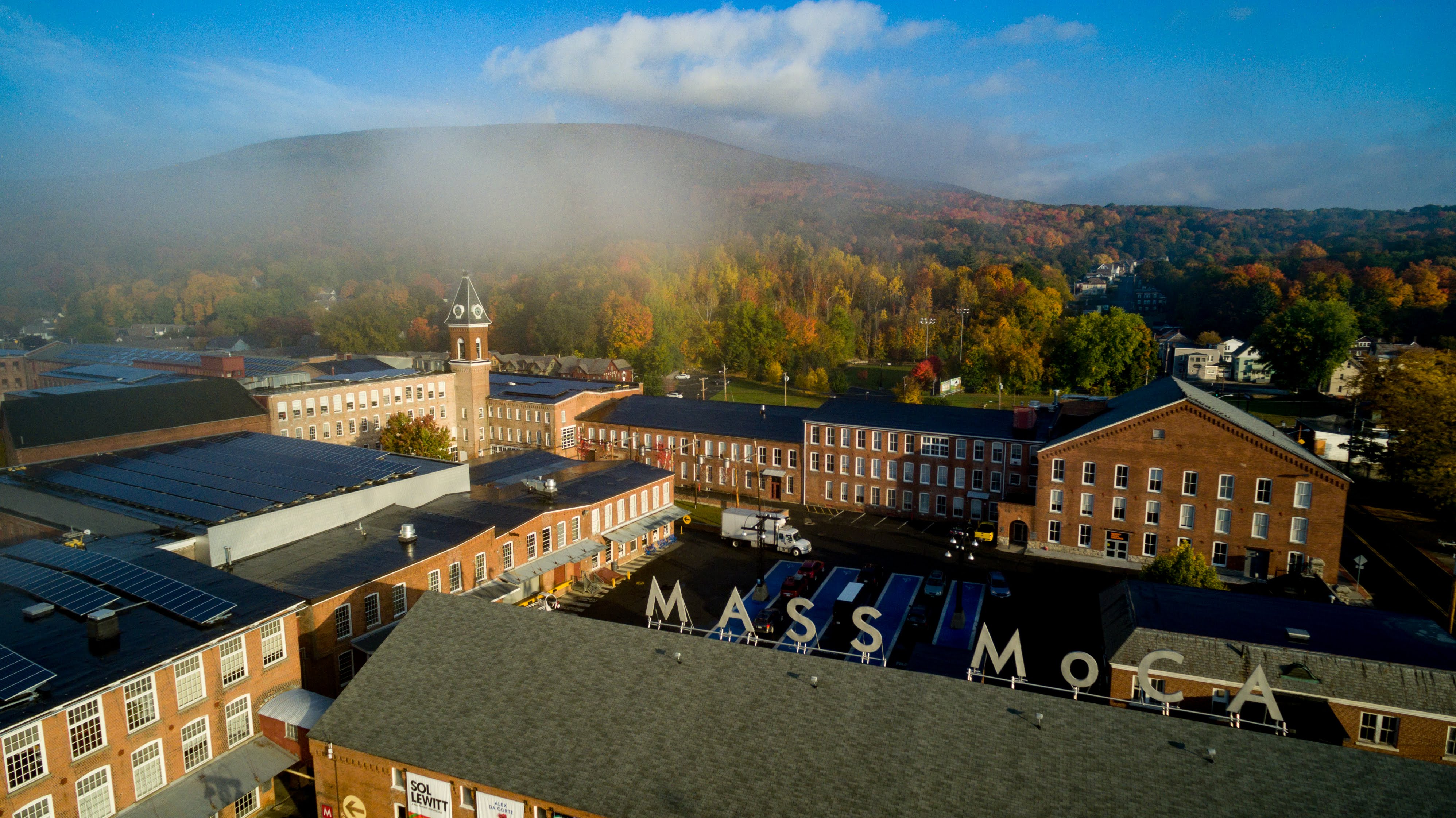 MASS MoCA: It's the nation's largest contemporary art museum. It's free for MCLA students. It's a 15-minute walk from campus. What more do you need to know? 
Eat at Jack's Hotdogs: With hot dogs for $1.20 and cheeseburgers for $1.45, you can't miss this All-American legend on Eagle Street.
Go to the Parlor: Right across from the townhouses, the Parlor is a coffeehouse run by MCLA alumni. Grab a coffee, pop open your laptop, and enjoy supporting a local business right in our neighborhood—they even offer student discounts.
Trivia at Ramunto's: Tuesdays from 7-9 p.m. Order some garlic knots or a slice and brush up on your obscure knowledge. Prizes given out every week.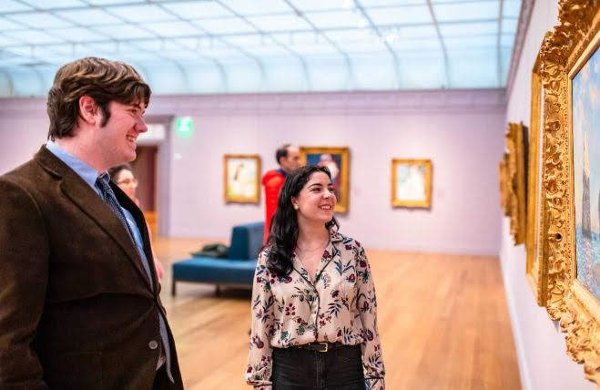 The Clark: In nearby Williamstown—peruse the beautiful galleries full of impressionist paintings, or just tour the grounds and Stone Hill pasture area, where you might run into a friendly cow.
Bright Ideas Brewing: If you're 21 or over, go to Bright Ideas Brewing on the MASS MoCA campus, North Adams' flagship local brewery. If you're not 21, you can still grab a root beer, and some BBQ next door.
The Pitcher's Mound: Again—21 and up only!—the Mound is MCLA's neighborhood pub and a regular student hangout for those appropriately aged. 
Norman Rockwell Museum: There's a chance you'll run into an MCLA intern while you're there. Stockbridge, about an hour away, is a classic Berkshire destination, and the Rockwell museum isn't only focused on Rockwell.
Attend a concert at MASS MoCA or Common Folk: North Adams has an amazing music scene, from big bands at MASS MoCA's Hunter Center to up-and-coming local artists and open mics at the Common Folk Artist Collective, which is run by MCLA alumni.
The Mount: Legendary author Edith Wharton's home in the Berkshires—with a discount for students! Take a regular tour of Wharton's sprawling estate, or visit in the fall for a Friday Night Fright ghost tour.
Susan B. Anthony Birthplace: The pioneering suffragist was born in Adams, one town over from campus! Learn about her early life and take advantage of the 50% student discount.
North Adams Movieplex: A 10-minute walk from campus, the Movieplex has $5 tickets every Tuesday, and some screenings where patrons can get in with a canned food donation.
Pizza Perusal: College students and pizza go together like fish and water. Sample a slice from each of North Adams' many pizza joints and pick your favorite.
Go undercover in another college town: Williamstown, five miles from North Adams, is also a college town, but a completely different vibe. Go stroll Spring Street and visit the book store, get a smoothie bowl at Nature's Closet, catch the Indian food buffet that runs on weekdays, and more.
Half-priced sushi: Chances are you'll run into someone you know on a Wednesday night at Korean Garden on Ashland Street. It's half-priced sushi night, and it's a cause for celebration.
Off Campus/Outdoor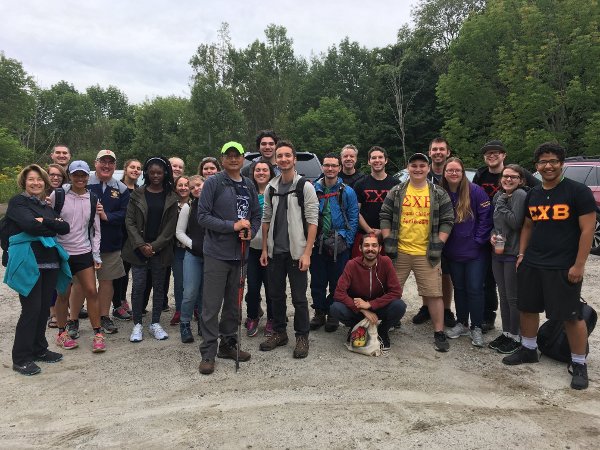 Hike Mount Greylock: Massachusetts' highest peak is a short drive from campus—and you can even hike there via the Appalachian Trail (or choose a shorter hike option). If you want to spring for parking, you can drive directly to the top for the view of a lifetime.
Natural Bridge State Park: The 550 million-year-old marble bridge at this state park looks amazing for its age.
Bridge of Flowers: A great date or weekend outing, Shelburne Falls is around 45 minutes away, and the Bridge of Flowers looks great through all warm-weather months.
Attend Fresh Grass Festival: A premiere bluegrass festival right on the MASS MoCA campus with ticket discounts for students (as well as volunteer opportunities).
Top of the World: A short hike near the Berkshire Natural Resources Council site on Route 2 beyond the Hairpin Turn—the perfect place to watch the sunset and see 100% of North Adams at once. 
The Wigwam: Get coffee and a snack and enjoy the view, just around the Hairpin Turn on Route 2. A great place to bring your parents when they visit, too!
Pedrin's: A classic roadside food and ice cream stand with something for everyone, as long as you like fried food and ice cream!
Visit Windsor Lake: Called "Fish Pond" by locals, it's free to use and $5 to park. Hiking trails and swimming/snowshoeing await. A 10-minute walk from campus. Bonus points if you attend one of the free Wednesday concerts presented by the city during the summer. 
Fall foliage: Western Massachusetts is a foliage destination. Head to any scenic lookout or just take a nice, peaceful walk. If it's peak season, you may run into a tour group.
DownStreet Art: While you're home for the summer, MCLA's Berkshire Cultural Resource Center is running DSA, which brings thousands of people downtown to tour galleries and have some family-friendly fun. DSA is on the last Thursday of every month from June to September—so you'll be on campus for at least the last of the annual series.
The Cascade Trail: At the end of Marion Ave. in North Adams is a free, short hike perfect for spring, summer, or fall (it gets a bit icy in winter)—and it ends in a beautiful waterfall. 
Apple Picking: Try Jaeschke Orchard 23, Gould Rd, Adams, or Lakeview Orchard, 94 Old Cheshire Rd, Lanesborough. But there are plenty of orchards in the area in addition to these choices.
Whitney's Farm Market: 20 minutes from campus in Cheshire—amazing donuts, cute farm animals, ice cream, and gorgeous produce—another great date or day trip spot!
Go tubing: In the snow or in the river. Jiminy Peak, around 30 minutes from campus, has snow tubing. Zoar Outdoor, also around 30 minutes away, offers summer river tubing opportunities.
Hit the slopes: With student discounts, Jiminy Peak, Buttnernut, and even Mount Snow in Vermont are all within a 1.5-hour drive of campus.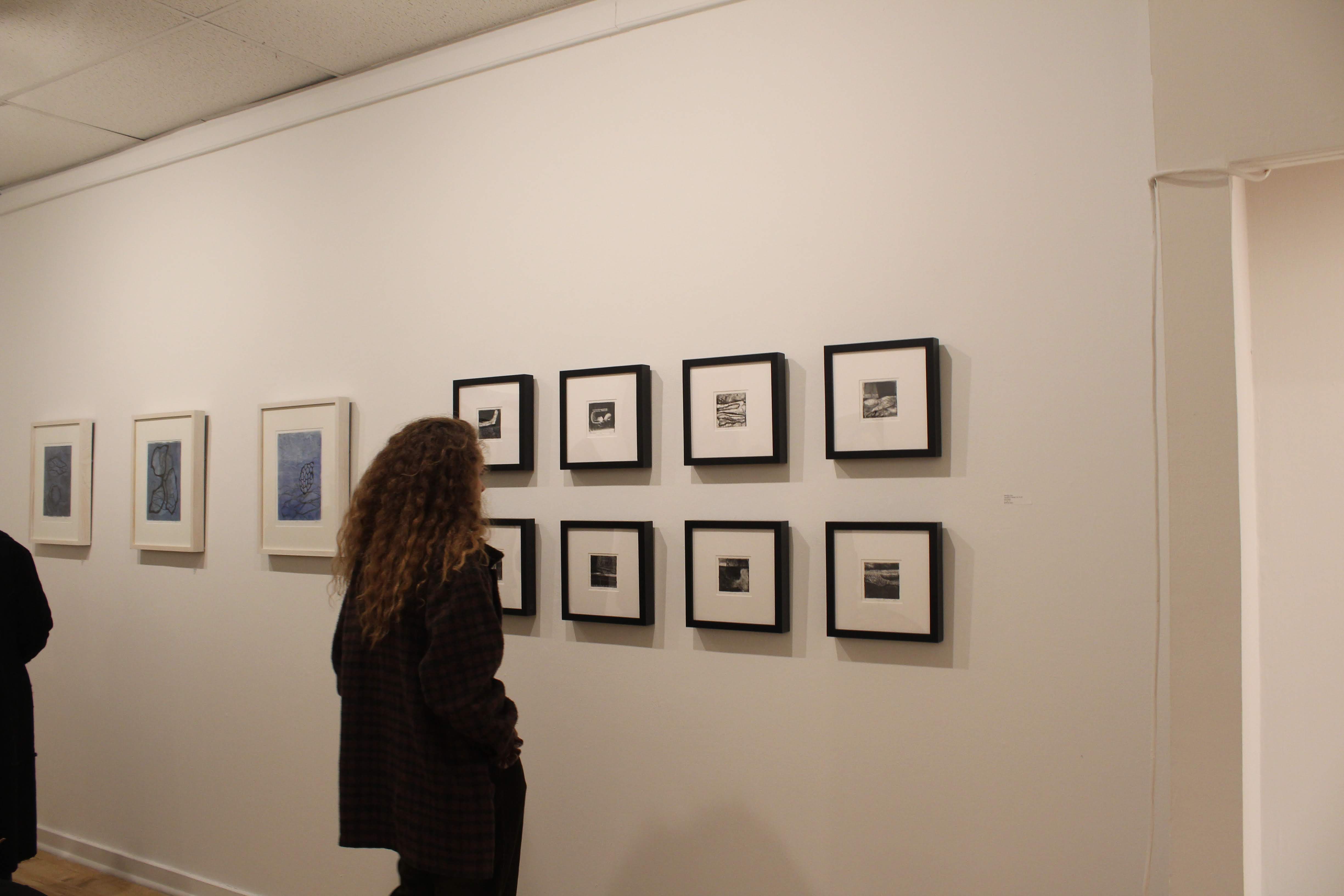 Go on a gallery walk: North Adams is home to many art galleries, all with their own quirky focus. Visit the Berkshire Art Museum on the corner of East Main and Church Street, MCLA's own Gallery 51 on Main Street, or just take a walk down Main Street, Eagle Street, or Ashland Street for your own personal art adventure.
Play Ball! If you're here during the summer, take yourself out to a ball game at Joe Wolfe Field, where the Steeplecats play. Bonus points if you go during an MCLA theme night! If you're looking to leave North Adams for the evening, the Pittsfield Suns play a full season too—home games are at Wahconah Park in Pittsfield.
Farmers Market: Saturdays from May to October at the parking lot across the street from Big Y in North Adams. Regularly voted the best farmers market in the Berkshires, it's free to visit, and anything you buy supports a local farmer or food producer.
Fall Foliage Parade: This is a BIG day for North Adams every October—and MCLA students march in the parade every year! Head to Main Street early to get a good seat!
North Adams Dog Parade: You need to experience this heckin' amazing parade of doggos. Many are in costumes coordinated with their owners.
Sam Gomez Road Race: An MCLA tradition—and you can walk or run. This fundraiser 5K benefits a different charity each year and is planned entirely by MCLA students.
Shop Local: Pick up some North Adams souvenirs at Berkshire Emporium on Main Street, or go see what's up in Common Folk's shop a few doors down. Downtown North Adams is adding new businesses all the time—check them out, or just grab an iced coffee at Empire Café (also on Main Street) and window shop.
Tanglewood: The summer home of the Berkshire Symphony Orchestra. $20 tickets are available to people under the age of 40. Get your picnic on and fulfill a major item on everyone's Berkshire bucket list. 
Skate Park: North Adams has a free skate park! Take your bike or board down to State Street, or just visit to see others pull off awesome tricks.
Savoy Mountain State Forest: A huge hiking destination just over the mountain at the line of Florida and Savoy.
***
Are you an MCLA student, alumni, or faculty member? Do you want MCLA to share your story? Please email Creative and Brand Strategy Manager Francesca Olsen at Francesca.Olsen@mcla.edu.