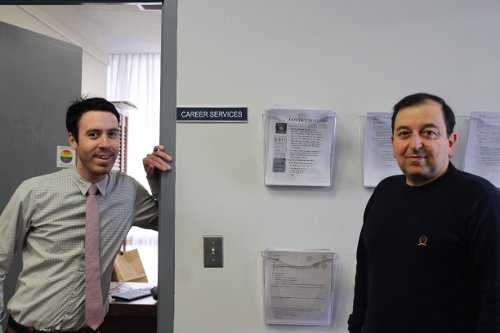 Career Development Specialist Dale Osef, left, and Internship Coordinator Tony Napolitano, right, are ready to help MCLA students and alumni with their career needs. 
Job Search Help? Career Development's Got You Covered
02/27/19
MCLA students and alumni searching for jobs, internships, and networking opportunities now have a stable of resources available to them via MCLA's Career Development Office. 
Looking for a job? Seek out listings through MCLA's Career Trail Online—the portal is open to students and alumni, and also includes internship opportunities. Want some help polishing your resume? Meet one-on-one with Dale Osef, career development specialist, or Tony Napolitano, the College's internship coordinator. Need a new headshot? There's an event for that (6 p.m. on April 30 in Sullivan Lounge). Want to learn more about a certain career field by chatting with a professional? See you in the Campus Center Marketplace from Feb. 25-April 26.
In their office in the Center for Student Success and Engagement (CSSE), Osef and Napolitano are hard at work developing these opportunities for students and alumni, connecting with potential employers, and meeting with students on an individual basis. 
"The undergraduate experience is an exercise in self-discovery," says Osef. "Bringing employers to campus helps students realize what is and what is not for them. It's also a time for reflection. Having students come in and reflect on their strengths and experiences helps bring them to the next step, where they can confidently approach the world of work."
Finding a Job You Love
After 64 representatives from 30 different businesses attended MCLA's inaugural Career and Internships Fair in fall 2018, Napolitano took a poll; 92 percent of those employers said they'd like to come back to campus to meet with students individually.
This ushered in the office's new Career Kick Start event. "It's different from the career fair because employers have the opportunity to meet individually with students," said Napolitano. Employers in various career fields, from STEM to performing arts, will be located in the Campus Center Marketplace on a weekly basis. Students will be able to have casual conversations, giving them a chance to learn about professions they're interested in. More than 35 employers have signed up so far, Napolitano says.
One-On-One Support
Students working on their resumes, prepping for internship interviews, or applying to grad school can also meet one-on-one with Career Development staff. "It really answers the question, 'where do I start?'" said Osef, who has developed a series of exercises specifically for MCLA students including networking tips, mock interviews, and LinkedIn consultations.
MCLA alumni are also welcome in the Career Development office—Osef has worked with alumni in all stages of their careers on self-assessments, resumes, cover letters, and direct connections with potential employers. The Career Fair was open to alumni, as well as other events, including new weekly info sessions covering resumes, internships, and cover letters.
"All of our resources are available to alumni at any time," Osef said. "They've really benefited from these events and from our resources—we want to make sure our alums have access to as many opportunities as our current students."