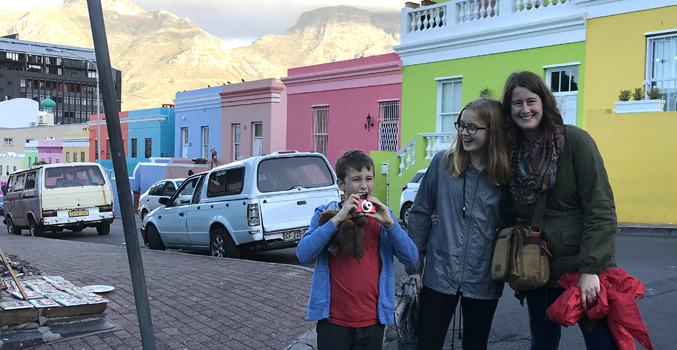 Dr. Anna Jaysane-Darr and her children, Jasper and Leila, in the colorful Bo-Kaap district in Cape Town, South Africa, in summer 2018.
Anthropology Prof Continues Research in South Africa
02/20/19
Ever since she studied abroad in South Africa as an undergraduate student, Dr. Anna Jaysane-Darr has been interested in the way people there live their lives. This summer, she will head back to Cape Town on the second of three trips to conduct ethnographic fieldwork as she studies what's being done by therapists, educators, and clinicians who work with members of the community who have Autism Spectrum Disorder (ASD).
"I am interested in the ways in which societies conceptualize what is considered 'normal,' and how they understand and deal with neurodiversity," explained Jaysane-Darr, who is an assistant professor of anthropology at MCLA. "The intersections of structural inequalities and autism have been significantly understudied, so I want to explore this topic further."
With her research, which is being funded with a $28,000 grant from the Spencer Foundation for Educational Research, Jaysane-Darr expects to contribute to a stronger understanding of the impact that those with autism have on communities, and provide deeper knowledge of how special education can be strengthened – not only in South Africa, but also more broadly in the Global South.
"Cape Town is a resource-poor, racially segregated context, where access to health, educational, and economic resources is limited, and the majority of families live in precarious conditions," she said. "Because they are working with youth, families, global organizations, hospitals, and the state, these specialists are especially well-positioned to reveal how educational systems respond to the structural neglect of disabled communities."
Before she returns this summer, Jaysane-Darr will travel to Cape Town with a group of MCLA students to examine contemporary South Africa and diverse South African communities in historical and cultural context.
There, they will explore Apartheid history and protest, understand inequalities in South Africa, experience the natural environment -- including meeting the penguins who live on Boulders Beach – and delve into the creativity and innovation of Cape Town.