Senior's Love of Outdoors Shapes Career Goals
02/20/19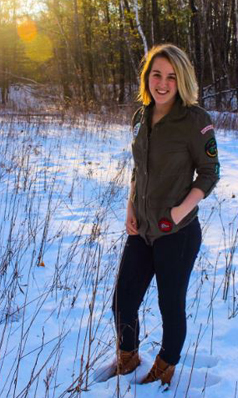 Interdisciplinary studies major Kaitlin Gevry '19 of Dudley, Mass., has loved the outdoors since she was a child. In addition to an aunt who taught her about flora and fauna, her parents are scuba divers who fostered her love of swimming, and instilled in Gevry a respect for marine life.
Part of a travel study course that recently culminated in a trip to South Florida and the Everglades, Gevry had the opportunity to study some of the region's wildlife, including Florida manatees. These animals are some of the most threatened in this country's waters, due to collisions with watercraft, the destruction of their habitat, and competition for resources.
"It was remarkable to see the manatees less than a few feet away from us," she said.
While snorkeling in the Florida Keys, several students – including Gevry – noticed a nurse shark, whose population also is declining.
"Sharks are essential to the ocean ecosystem by keeping the marine food chain in balance. Someday, I hope to be able to dive with a great white and a whale shark. I would be ecstatic to have a job collecting shark and or marine life data, while working to promote their conservation efforts," Gevry said.
Originally, Gevry wanted to major in education. Now she aims to work as a game warden or a park ranger. "I took a course pertaining to the environment and human impacts," she explained. "From there, I became interested in environmental studies. An interdisciplinary career working with natural resources and people would be the perfect fit."
Becoming a Trailblazer, Gevry explained, has allowed her to assume leadership roles and participate in extracurricular activities: she served as the vice president of ski club and as a student athlete in cross country.
"Being part of a college that offers various teams and organizations has definitely made my undergraduate experience rewarding," she said.