Sociology Alumna Takes on MBA at MCLA
02/13/19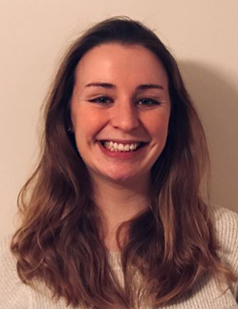 Jessica Wojcik '16 did not take a single business class as an undergraduate at MCLA, but she's well on her way to earning her MBA while she continues her fulltime work as a billing and collection specialist at Berkshire Health Systems (BHS) in Pittsfield, Mass.
While her sociology degree taught Wojcik about diverse communities and their interactions – as well as a scientific approach to studying them – her goal is to secure a management position, with the ultimate objective of joining a senior leadership team.  
Wojcik explained, "Leadership has driven my career, and MCLA has been a key component of that. From serving as a board member of the National Society of Leadership and Success to teaching local elementary students and even working as a teaching assistant in my undergraduate career, always want to strive for that next step in my career."
"An MBA," she continued, "offers diverse career options that will allow me to explore and work my way up the ladder ... and will make me a better candidate for job opportunities."
Wojcik's first working experience at BHS was at age 13, as a volunteer in the kitchen. Over her 10 years with the organization she's learned much about how the hospital operates – from the clinic and the clerical to radiology, the emergency department, the hospital's acute care and critical care units, and more.
"Knowing as much as I do about how the hospital operates, an MBA is best to prepare me to hopefully lead any number of these departments in the future," she said.
"MCLA is home, I live and work in Berkshire County. I am a part of the community on and off campus. I did my undergraduate at MCLA. It's affordable! The professors, the campus atmosphere, and  the community of students create a comfortable environment for learning."