MCLA Welcomes New Director of Alumni Engagement and Donor Relations
01/18/19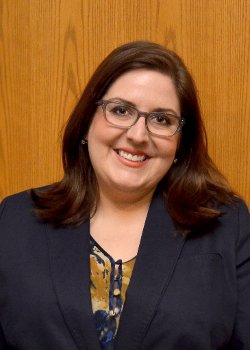 MCLA welcomes a new director of alumni engagement and donor relations: Kate Gigliotti, who brings years of experience in alumni programming and development to MCLA's Office of Advancement.
Coming from Houston, Texas, where she served for four years as director of alumni programs and events for the University of Houston Law Center, Gigliotti is excited to work with the MCLA Alumni Association to design programming and engagement opportunities for MCLA alumni and donors.
"I want to hear from MCLA alumni," Gigliotti says. "If you've wanted to get involved but haven't felt the time is right, now is the time! Let's make this an alumni program which truly reflects our graduates." 
Gigliotti, who is originally from Rochester, N.Y., developed a passion for development and outreach work after beginning her career as an arts administrator, first coordinating the Sarasota Opera's youth program and then working as manager, education and community engagement and grants administrator for the Albany, N.Y., Symphony Orchestra. A mentor in Albany recommended higher ed as a potential career path, which eventually brought her to Albany Law School as assistant director of alumni affairs before moving to Houston.
"I found that I loved creating opportunities for alumni to connect with each other, and with the institution," Gigliotti said. "In some ways, it was kind of a natural transition into higher education, and definitely the field which I was meant to end up." 
At the University of Houston Law Center, she focused on creating programming, volunteer, and networking opportunities for alumni, coordinating more than 60 national and international events and conferences annually, and working to increase alumni engagement—including recruiting Law Center alumni to offer their professional expertise and volunteer service.
What attracted her to MCLA? "One of the things that really jumped out at me is the diversity of careers our alumni go into. Someone will start out as an English major and end up working for an amazing software company. It's exciting to see where our alumni go after graduating from MCLA. To get to be a part of that is thrilling, and I think it really speaks to the solid foundation of a strong liberal arts education," she said.  "I feel like I got so much out of my own liberal arts education. Now, coming to work at a liberal arts institution, it's nice to see things come full circle."
MCLA alumni, students, and community members can contact Gigliotti at Kate.Gigliotti@mcla.edu (413) 662-5074.