Alumni Reopen North Adams Café
01/30/19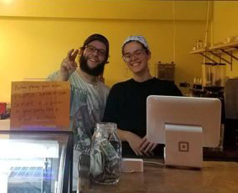 As students, Julia Daly '17 and Nick Tardive '17 often hung out at the Parlor Café, right next to campus at 303 Ashland St. Although the coffee shop felt like a home away from home, they never dreamed they would one day run it. Then, the summer after their junior year, the café closed.
After graduating the following year – Tardive with a political science degree and Daly with a degree in interdisciplinary studies – they decided to stay in North Adams. "I really had fallen in love with North Adams, and felt like I had a home here. There are just so many lovely things about this city and the community," Daly said.
"I had a steady job at MASS MoCA and a nice apartment – conveniently located upstairs from the café," Tardive explained. "However, I wouldn't have fallen in love with North Adams had it not been for the Parlor Café introducing me to such a wonderful community – both when I was a freshman, and when I was looking for off-campus housing."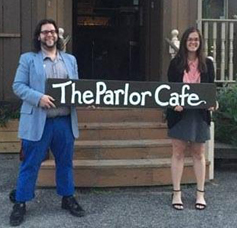 As they settled into their postgraduate lives in North Adams, the pair missed the café. "It was almost a joke at first," Daly recalled, "I don't remember which one of us said, 'Well, why don't we see if we can find a way to re-open it?'"
That's exactly what happened last October. Since then, Daly and Tardive have made the Parlor Café – which serves breakfast and lunch, along with a variety of beverages – their own.
"We host musicians fairly often. It's one of the most fun things we do," Daly said.
The Parlor Café also offers "Rambling Poets" literary open mic nights every third Thursday, and comedy nights. "They're really cool ways to get to meet new people, and to support local artists," Daly said. "We want people to feel comfortable here, and to hear their ideas. Just come by and ask!"
Customers also are enjoying the café's offerings. "The mocha latte is pretty popular, too," Daly added.