New Alumna Enjoys Recruiting Work as She Fills Technology Positions
01/10/19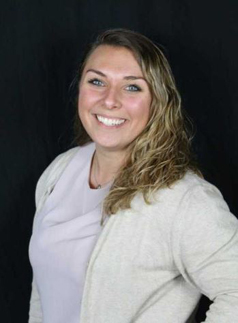 At the start of her MCLA career, Michelle Laga '18 wanted to become an athletic trainer. However, after her first year on campus, she made a change from that field to interdisciplinary studies, with concentrations in psychology and business, and a minor in leadership.
Now this young alumna works as a recruiting specialist for redShift Recruiting in Castleton, N.Y. "We work with top technology and IT companies," Laga explained, "mainly focusing on placements such as help desk and development roles. In addition, we fill engineering, customer service, and warehouse positions. I enjoy helping people, which is why I got into this field."
As a student, Laga served two internships – as the sports information intern in the Athletics Department, and as a marketing intern at medical technology company AngioDynamics in Latham, N.Y., as a marketing intern, where she worked with former Interim MCLA President James Clemmer.
"Both internships helped to broaden my connections and gain confidence and other skills that are useful to me at redShift Recruiting," Laga said. "It is important that students serve an internship because it helps them determine if they are in the right field. They also will get experience: internships are great resume builders."
Throughout her four years on campus, Laga played on MCLA Women's volleyball team. The team participated in numerous community service and volunteer projects, such as those with the local Habitat for Humanity and area food pantries.
She also served as a mentor for local elementary school children. "I enjoyed doing this volunteer work, and making a positive change in the community," Laga said. Today, "I am so happy in my job. MCLA is an amazing school, and the faculty and staff help students like me succeed. The College got me to where I am today."