Tarantulas, Snakes and Scorpions: Junior Enjoys Unusual Internship
01/23/19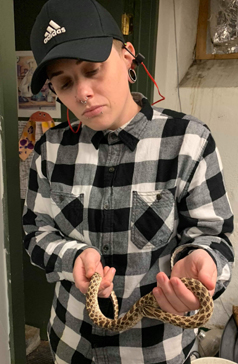 The Berkshire Museum exhibits works by renowned artists such as Paul Cézanne, Pierre Auguste Renior, and John Singer Sargent, and is home to works by many others, including internationally known artists with connections to the Berkshires like photographer Gregory Crewdson and painter Stephen Hannock. But there's another side to this cultural venue – a side with which Caitlin Ryan '20 of North Adams has became well acquainted.
Among a number of diverse collections, the Berkshire Museum includes representations of Berkshire ecosystems that feature local mammals, birds, reptiles, fish and insects. Ryan, who majors in environmental science with a minor in biology, served an internship there, working with these creatures on site.
"I chose this major because of my love for nature and the environment," she explained. "Our world is under a great deal of stress as it tries to mitigate climate change, and it is our job to provide the best care we can for flora and fauna."
At the museum, Ryan cares for an assortment of fresh and salt water fish, amphibians, and reptiles that include poison dart frogs, mud puppies, snakes, geckos, turtles and tortoises. Her favorites are a Western hognose snake and a red-footed tortoise. "They are both so docile and full of personality it's hard for me to not favor them," she said.
She also works with a rose-haired tarantula and a Vietnamese forest scorpion, which she finds fascinating. But, "they give me the heebie jeebies," Ryan said.
Ryan's dream is to one day have a career working in ocean and marine life conservation, to include rehabilitation for animals that need care before they are released back into their natural habitats.
"The aquarium at the Berkshire Museum is a wonderful starting point. I am really getting a head start by learning the dynamics of managing and caring for the animals here," she said.