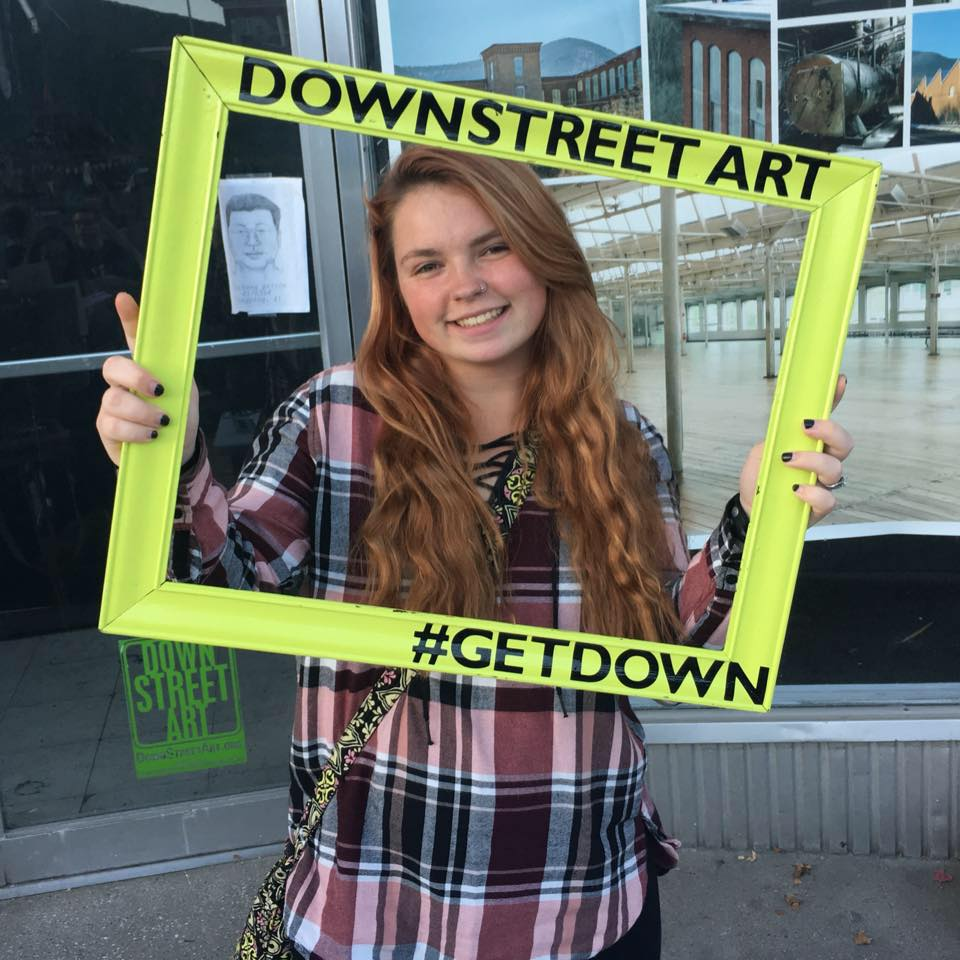 Kamryn Dunton '19 is working on campus for the Student Affairs Division this summer while also planning her senior art show. 
A Summer on Campus, Blending Art and Design
07/24/19
Kamryn Dunton '19 is having a busy summer—but she's used to being busy.
Dunton is using her arts management and art double major to work on marketing and graphic design via a paid position in MCLA's Student Affairs Division, and she's working on her senior art show at the same time.
Dunton, who grew up in Pittsfield, hadn't planned on going to a four-year college, but learned about MCLA from classmates at Taconic High School and decided to apply. But she didn't take the typical four-year route. "I pushed myself to get out a full year early, with two degrees," she said. 
Once she committed to MCLA, Dunton took up to 24 credits a semester, and will complete her final credit requirements this summer. "I said to myself, if I got accepted, I would put my head down and do it," she said. 
Though it was overwhelming at times, she grew used to the pace. "I thought it was going to be harder than it was," she said. 
On campus, she was able to nurture and expand a love of design that hatched in high school. She designed program covers, worked on promotional materials for MCLA's Performing Arts Department for a year and a half as an independent study, and is now working in a summer student position in Student Affairs, designing graphics, pamphlets, orientation schedules, and digital components.
Now she has years of design experience—and experience working with clients, doing revisions, and creating work to fit someone else's needs. "I think working in a real-life scenario—working with Student Affairs, with the Theatre Department, has been an incredible experience," she said. 
Doing all this work "makes me realize how hard it is to come up with something unique," Dunton said. "I'm always going for that. I'm drawn to minimalist, very clean style, sometimes more typography-based."
Meanwhile, Dunton's senior art show opens on the third floor of Bowman Hall on Aug. 7, with a reception at noon on the same day. Dunton created mixed-media pieces on the theme of paranoia, "something I think everyone has," she said. 
"As far as using mixed media, I like using my hands," she said. "If I could make a career in that, I would. But I'd rather do work for other people. I find joy when people like the work I give them, or I can meet their expectations, rather than creating art for myself."
After she finishes up at MCLA, Dunton's dream is to get a full-time graphic or product design job and is applying to local companies. "I think I'd be happy designing for a company, creating packaging design, something like that," she said. 
***
Are you an MCLA student, alumni, or faculty member? Do you want MCLA to share your story? Please email Creative and Brand Strategy Manager Francesca Olsen at Francesca.Olsen@mcla.edu.