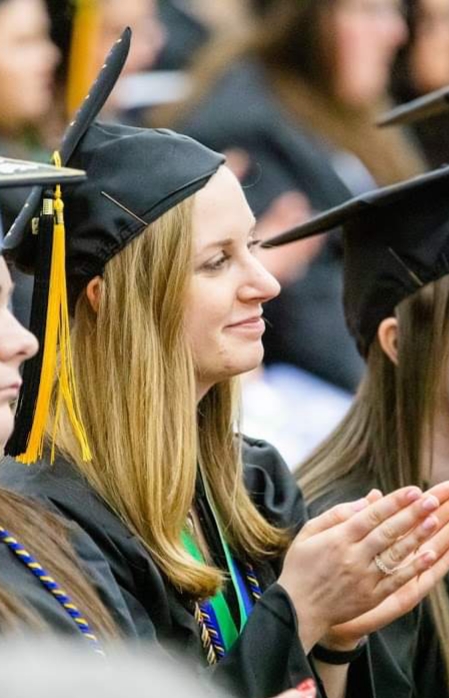 Devyn Renzi '19 at MCLA's 120th Commencement in May. Renzi was recently accepted to the University of Bridgeport for a master's degree in human nutrition, and will start in September. 
Finding a Purpose, and a Mentor, in Nutrition 
06/05/19
If you've visited Community Health Programs' Pittsfield Neighborhood Health Center lately, you may have received a nutrition fact sheet prepared by Devyn Renzi '19. One of MCLA's first graduating health science majors, Renzi found footing and purpose through her internship.
It was an online personality test that first put Renzi on a path to nutrition. After earning her associate degree in health science from Berkshire Community College, she was accepted to MCLA's new health science degree program, which is designed to prepare students for a wide variety of health-related careers—with a focus on matching interested students with internship experience. 
"I knew I really wanted to do an internship," Renzi said. "It's something to add to my resume, and I wanted it to have the validation I was going into the right field." A classmate's mother hooked her up with CHP. "It snowballed from there," Renzi said. "It sounded like exactly what I wanted."
Renzi ended up working mostly with Chrissy Garner, a clinical nutritionist and wellness educator at CHP. "We really hit it off in the beginning," she said. "I had such a close one-on-one relationship with her, which you don't always get in a classroom. She is a very intelligent woman, and she's so good at connecting with people."
Garner enjoyed the experience as much as Renzi. "Educational leadership or experiential learning is something that I adore. Personally, I had quite a challenge when I first began in the nutrition field. … I spent years feeling inadequate until finally, "a mentor" believed in me. This person took me under their wing and guided me in the right direction. Because people adored him, I had a chance to shine," she said. "Now it's my turn to help do the guiding."
"With Devyn I was able to ignite her fire and enhance her desire to teach others how to take ownership in their own health," Garner said. "We instantly had chemistry! I felt that she was passionate about nutrition and compassionate towards our patients. I felt as if we were working together as a team in educating our patients. I hope to continue working with her in the future. She is very bright and will serve our field well."
In addition to plenty of shadowing, learning how to effectively and compassionately interact with patients, and clinical work, Garner had Renzi prepare fact sheets for various dietary information—the basics of eating a high-fiber diet, the best foods to eat while breast-feeding, and so on. She also wrote CHP's community newsletter for March 2019. "March is National Nutrition Month. That was really cool," Renzi said. "Even if someone took away just one thing from it—that's something I created!" 
Renzi is committed to a career in nutrition, but is open to all sorts of options. She was accepted to the University of Bridgeport for a master's degree in human nutrition, and will start in September. 
"My ultimate dream right now is I want to have a place where I can do nutritional consulting," she said. "Maybe at a medical office, nursing home, or school…I really want to help people, and I really want to educate them in the ways that are going