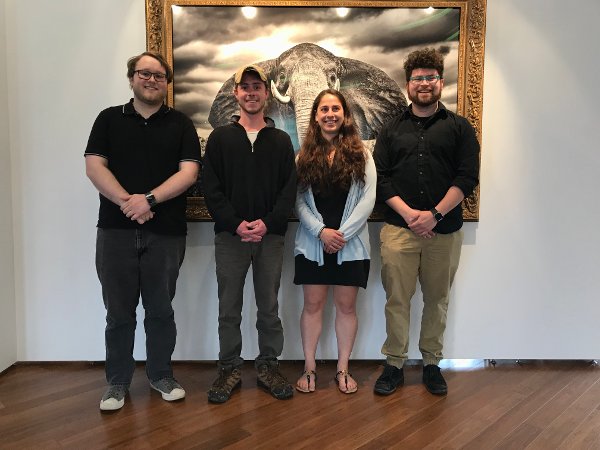 From left to right: ROAM Gallery employees Matt Mears '18, Luke Tobin '18, Michaela DiNicola '16, and Christopher Tate '14. 
For a Job in the Arts, No Need to Roam 
06/12/19
Vivid photos of endangered African wildlife seem to follow you around the room at ROAM: A Xtina Parks Gallery, located in a beautiful renovated space on the MASS MoCA campus. An elephant's regal, dignified stare towers over onlookers. Lions laze on strong branches, keeping their eyes on the horizon. Trees dot a flat landscape, mammoth clouds overhead.
Nestled behind the walls that hold these large-scale photographs are four MCLA alumni, each with a unique role that supports the gallery's mission of conservation and awareness.
Matt Mears '18 and Luke Tobin '18 work as assistant film editors, working on a future documentary-style show comprised of interviews and footage shot during gallery owner Xtina Geagan Parks' travels to the African continent. Parks, a conservationist and Getty Images photographer, has made it her life's work to bring awareness to protecting habitats and endangered wildlife, using her extensive experience as a visual artist to tell the story of those habitats and their importance. 
Mears, who grew up in nearby Petersburg, N.Y., found his job through the College's Career Exchange listings. "When Tina (Xtina Parks) and her team go on these trips, they're not going with a script in mind," Mears said. "When they come back with footage, it's our job to work with what we're given to create a compelling, cohesive, and accurate story from that footage—and to sometimes create something much bigger than the sum of its parts." A bonus: ROAM uses AVID editing software, which Mears, an English major, learned how to use at MCLA.
Tobin, an English major from Northborough, Mass., wanted to stay in the Berkshires after graduation but wasn't sure if he'd be able to find full-time film or video work here. "It's a plus to work with this kind of footage," he said. As the team works on narrative, titles, and other details, he's using his creative writing minor. "Having a team to bounce ideas off is super important. And to make something like this, to construct something creatively, my English degree comes into play."
Michaela DiNicola '16, a business administration major from Lanesboro, Mass., is the full-time accountant for the gallery and its associated objectives. On a regular work day, she's calculating multiple international exchange rates and working to keep clear records of transactions and finances. "I knew I wanted to end up back in North Adams," she said, "So I'm really excited to be here. It's new and exciting for me, as far as accounting work goes. I could have been stuck sitting in a cubicle all day."
And Christopher Tate '14, a psychology major/history minor from Belchertown, Mass., just began working at ROAM as gallery floor manager and research analyst (he previously worked at MCLA's Center for Student Success and Engagement). As the gallery gets ready for a grand opening on June 22—the team is adding retail space that will offer work for sale from African artists—Tate is researching the people and regions where goods are coming from and working on Fair Trade Certification. "I'm using my history minor for the first time since I graduated, using research techniques I learned at MCLA," he said. "I've always been pretty adaptable, but doing a lot of different things at MCLA put me in the right place to have all these things be under my umbrella as I work here."
And the chance to be part of an economic revitalization in North Adams is something that resonates. Tate, gesturing toward the picture window that looks out on MASS MoCA's campus, notes how much is new there: a brewery, a barbecue joint, new businesses--including ROAM. "in the time I've lived up here, this didn't exist," he said. "It's cool to come full circle and not just be a member of the community, but to be actively working to make it happen."
Learn more about ROAM at www.roamgallery.photo.
***
Are you an MCLA student, alum, or faculty member? Do you want MCLA to share your story? Please email Creative and Brand Strategy Manager Francesca Olsen at Francesca.Olsen@mcla.edu with the subject "web story pitch." We look forward to hearing from you!