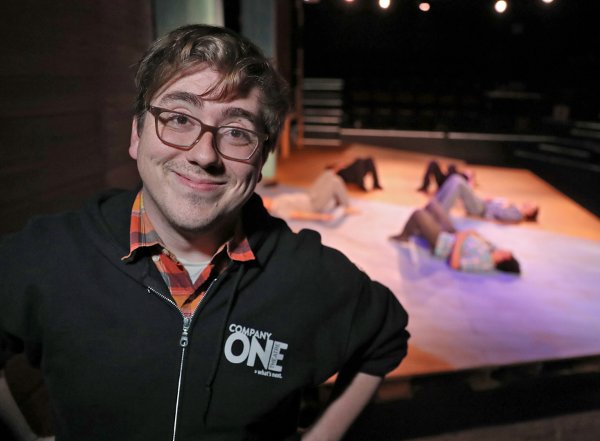 Tyler Prendergast '13 is the marketing and communications manager for Boston theatre company Company One, doing everything from media relations to coordinating box office experiences in unconventional venues to designing postcards and email newsletters.
What is it Like to Market for a Theatre Company? 
06/28/19
The events in our lives have a tendency to build on one another in ways we can't necessarily predict. So it was for Tyler Prendergast '13: Volunteering to do graphics and posters for plays produced at MCLA led to a design internship, then to a theatre communications job in Watertown, Mass, then to his current job as marketing and communications manager at Company One Theatre in Boston.
Prendergast is the dedicated staffer in charge of promoting all of Company One's work—everything from media relations to coordinating box office experiences in unconventional venues to designing postcards and email newsletters.
Behind it all is the mission: "We do work that's showcasing underrepresented voices and underrepresented artists," he said. "Theatre has long been a very white, very upper-class art form. And that's not what Boston looks like. And it's not what America looks like."
It's a mission Prendergast can trace back to his MCLA days. 
"Coming through a state school, through a program that is more accessible to people without financial privilege—that's something I think about all the time, working in the theatre industry, where having an expensive conservatory background is often assumed to be the norm." Prendergast said. "There are systemic issues at play—even in fields where the work is 'fun,' where we're expressing ourselves—regarding who gets to have access to the mechanisms by which we make that art."
As a performing arts student, Prendergast was able to work on productions that challenge ideas about what theatre is and who makes it—directing The Tempest with a female Prospero and a live folk rock score for MCLA Shakespeare club Yorick, for instance, and assistant directing MCLA Professor Laura Standley's production of "Hedda Gabler," which treated Henrik Ibsen's classic as an experimental new work that encouraged its audience to move around the stage.
Offstage, he learned about community. "One of the things I find most meaningful about my MCLA experience is the college's dedication to creating fully rounded human beings, of how many opportunities there are for an individual to excel—and become engaged with the workings of the school," he said. As an orientation leader, he was inspired by the work of Assistant Dean of Students Celia Norcross. "That experience made me realize I could specifically pursue work that benefits a community," he said. "That's something I absolutely owe to Celia." 
After being nominated to Yorick's executive board, Prendergast volunteered to be in charge of promotional activities for the club. "It's funny to think of: that one club meeting completely determined the direction of my career," he said.
That experience, along with his graphic design work for Fine and Performing Arts Department, helped him secure an internship with the Williamstown Theatre Festival (WTF), just down the road from campus. And his WTF internship provided valuable experience for his first theatre communications job at New Repertory Theatre in Watertown, Mass., not far from his hometown of Saugus. 
Working in the Boston-area theatre world gave Prendergast plenty of opportunities to check out what other theatre groups were doing. He immediately connected with Company One's productions. "It was the sort of work I was really passionate about," he said. "I would never miss a show."
When his current role opened up, Prendergast knew he had to apply. He's been at Company One since 2017. "It's an incredible team of people," he said. "They've all been dedicated to this company and this mission-driven theatre work—for many of them, this has been their lives for 20 years. I couldn't ask for a better team to work with." 
"My experience at MCLA prepared me for working at Company One," he said. "Our company's goal is to build a community at the intersection of art and social change. Those things really work hand in hand—the education I received, the community I was able to be a part of, and the work I'm in now."