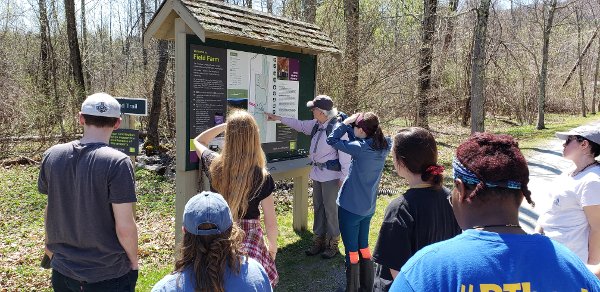 Dr. Julie Richburg, lead ecologist for inland natural resources at the Trustees of Reservations and an MCLA adjunct professor, leads an environmental studies class on a trip to the Trustees' Field Farm site. 
When Your Professor is also a Lead Ecologist 
06/12/19
When an MCLA class arrives at a Trustees of Reservations site to meet up with Dr. Julie Richburg, lead ecologist for inland natural resources, Richburg is ready with an opening question—have you ever heard of the Trustees? 
"Often, they haven't," Richburg says. So she asks where they're from. "Depending on what town they say, I can pull a trustees reservation—we have 117 of them—and say, 'oh, you grew up on the North Shore? Have you ever been to Crane Beach?" 
That usually does it—generally, in-state students have spent time at one of those 117 sites. "It's really interesting seeing that they've enjoyed our properties, but it hasn't sunk in who is responsible for the care. There's a lot of work that needs to be done to maintain them."
Though part of Richburg's work at the Trustees is to engage volunteers in the work of land conservation and historic preservation, MCLA students get the benefit of her expertise in many more ways than the occasional field trip. For years, she has been a resource and steward for students in MCLA's Environmental Studies program.
Aside from adjuncting at MCLA, Richburg has hosted student groups during field trips to various Trustees sites, removing invasive plants; supervised student internships in invasive species and Geographic Information Systems (GIS); collaborated on students' field research; and acted as a guest speaker for the department's Green Living Seminar Series.
The Environmental Studies program at MCLA is known to be hands-on—students check local lakes for invasives via pontoon boat, tromp through trails wearing waders to track beavers, and monitor local bird populations, among many other things—but getting to know a full-time ecologist as a professor and as a professional adds extra perspective to those lessons.
Take invasive plants: It's one thing to learn what they look like. It's a whole other thing to spend the day with Richburg pulling them from Trustees sites. And it's one thing to learn research methods and develop a plan; it's something else entirely to meet up with Richburg, ready to use the methods you learned in class to gather data in the field.
"Overall, the students I have come in contact with are really passionate about the environment. They're really curious. They want to know more," she said. "They ask great questions. Some of them add me on LinkedIn after they graduate. They're doing some amazing things! It's fun watching them go from being an undergrad to a professional."
***
Are you an MCLA student, alumni, or faculty member? Do you want MCLA to share your story? Please email Creative and Brand Strategy Manager Francesca Olsen at Francesca.Olsen@mcla.edu with the subject "web story pitch." We look forward to hearing from you!