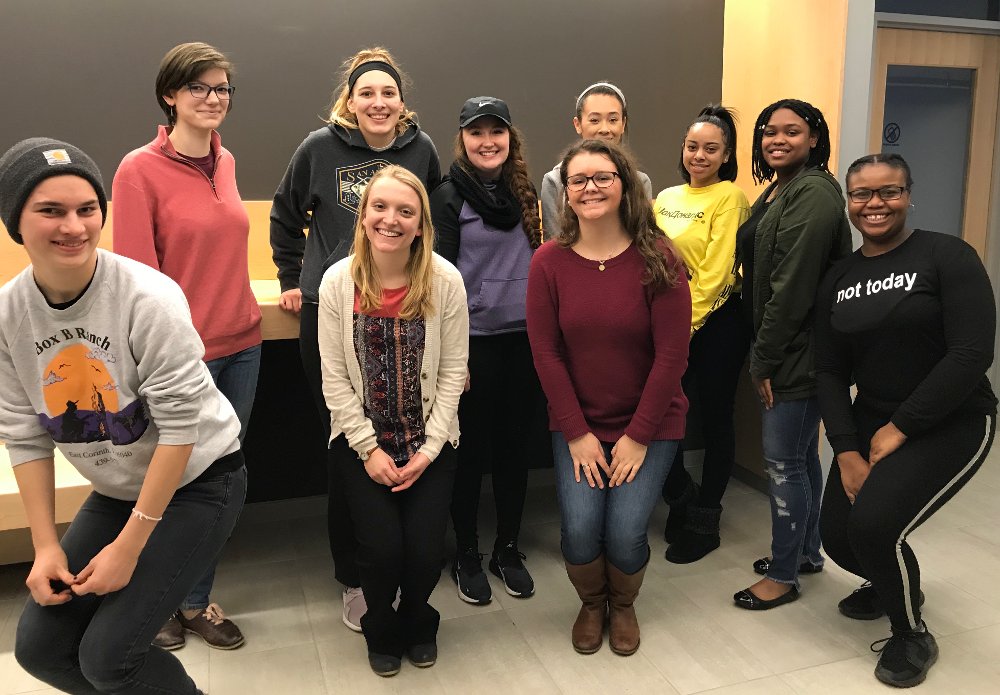 MCLA students mentoring fifth- and sixth-grade girls on Mondays are (pictured): Abbie Walsh; Kyly Horton; L'rae Brundige; Aletta Brown; Taylor Scarver; Ruth Bristol; Eleanor Von Huene; Victoria Munoz; Angelie Castro and (not pictured) Shunquell Dennis.
MCLA Students Mentor Girls in the Berkshires
03/19/19
It's a gray Monday in March, but it's nice and bright in Bowman Hall, and Bianca Lascase '21 is holding the bunny, so she gets to talk.
As she explains the rules of "Girl Talk" to a dozen or so fifth- and sixth-grade girls seated in chairs assembled in a circle, they wriggle in their seats, their eyes on the bunny. But before they can get into Girl Talk, they have to recite "The Girl Code": I am beautiful. I am brave. I am smart. I am powerful. I am funny. I am helpful. No other girl is like me. I will support any girl in need. We should stand with each other as women and we are unstoppable!
This is the weekly meeting of Girls in the Berkshires, an after-school program serving students at Brayton, Colegrove, and Greylock schools. Initially developed in a fall capstone course taught by MCLA Volunteer Center Director Spencer Moser, it was brought to life by Lascase and Briana Higgins '19 during the Fall 2018 semester. (Another MCLA student, Karen Canela '20, worked on developing the program, but ended up studying abroad in Fall '18 and wasn't able to help launch the program on campus, but is still involved with coordination efforts.) 
Lascase, a political science major from Brockton, Mass., who has younger siblings herself, wants to give these young women a space to talk about what it means to be a girl, how to support other girls, and loving themselves before accepting criticism from others at face value.
"As you grow, there's more pressure on having other people validate you," she says. "That was the first message we wanted to get across to them. You don't need to have someone else validate your worth."
Weekly guest speakers are also planned for the semester—MCLA faculty and staff members will speak about women in fields like media and STEM, and the girls are assigned journal entries pondering what questions they may have for those guests. "We want to show young girls they can do whatever they want," says Lascase.
The coordinators use Google drive to plan their curriculum, build a weekly agenda, and log guest speakers and attendance. They have a weekly debrief where they go over how the last session went, and how they want the next week to look. There are currently around a dozen MCLA student volunteers, "so the classroom is full," says Lascase.
As the Monday session winds down, the MCLA student mentors remind the middle schoolers to prepare questions for the next guest speaker, then shepherd them safely to their bus home, which is idling in a nearby MCLA parking lot. The Girl Code remains projected on a screen at the front of the classroom. 
"When you're a child, there are fewer people judging you, but as you grow, presentation is important," Lascase says. "People are going to judge you on that whether you like it or not. But we try to drill in people's minds that just because someone may not agree with how you think or how you carry yourself, it doesn't mean you should stop doing what you're doing. You should keep being who you are and embracing that individuality. We need more people in this world like that."