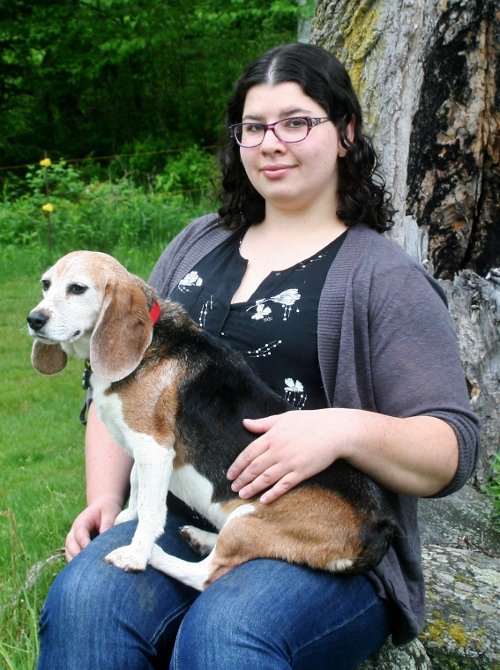 Veterinarian Elizabeth Wheeler '10 recently visited campus to share her experience with MCLA students. 
How to Become a Veterinarian, with Elizabeth Wheeler '10 
05/10/19
How do you become a veterinarian? 
First, finish your undergrad at MCLA. Then apply to veterinary programs, which tend to be extremely selective. Don't get down on yourself when you don't get in the first time; apply again next year. But that's just the beginning of this story.
Veterinarian Elizabeth Wheeler '10 recently visited campus to share her experience with MCLA students. Now a vet in Unadilla, N.Y. (though she will soon move to work at a practice in Norwich, Vt.), Wheeler works with creatures great and small, from site visits with equine and bovine patients to office visits from typical cats and dogs.
"I was one of those kids—some people definitely really know at a young age what their draw is," said Wheeler. "Others find it later on. It's always been something I wanted to do."
That drive and commitment helped her stick to her goal through life's ups and downs—through marriage, through being diagnosed with multiple sclerosis at 23, through getting a master's degree in public health, and through finding out she was pregnant with her son on the same day she was accepted to the University of Prince Edward Island's veterinary program. "He was due on the first day of class," she said. "I deferred a year."
Wheeler and her family lived on Prince Edward Island, Canada, for the four years she was in veterinary school; she graduated in 2018. "Veterinary medicine and the intensity and pace of school can be a relationship killer," she said. "Having support that carries you through it is absolutely huge."
As a vet, Wheeler wears many hats, working in emergency medicine, intensive care, teaching her clients about the importance of flea and tick prevention, doing dental work, and working on other animal health issues that arise. As a veterinarian, she is an active supporter of the One Health Initiative, which aims to expand collaboration between physicians, veterinarians, dentists, nurses and other scientific-health and environmentally related disciplines.
As an MCLA student, she majored in biology with minors in chemistry and business, and spent a semester at sea through the University of Virginia's program (she applied independently of MCLA). "I'm thrilled to be here," she said of her April visit to MCLA's campus to speak to students—her first as an officially minted vet. 
Her main advice for MCLA students interested in the same path? "It takes passion and sacrifice," she said. "You have to really want to go for it, but it can be absolutely amazing."