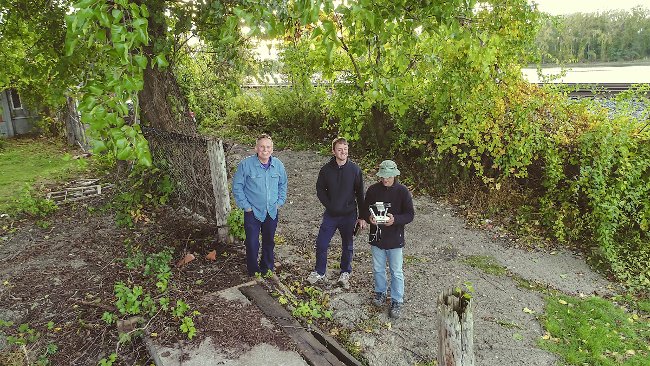 William Shannon '11, center, on assignment in Hudson. N.Y. This photo was taken by Tony Cenicola of the New York Times, right, via drone. 
The Country, the City, the River, the Times
05/30/19
William Shannon '11 is no stranger to the history and character of New York's Hudson River Valley. Growing up on the river in Germantown, N.Y., Shannon has spent his life searching for the untold stories of his native home—some of which have made it into The New York Times.
An English/communications major and Hardman Scholar at MCLA, Shannon spent a full semester earning credits as editor-in-chief of the Beacon, and interned at the now-shuttered North Adams Transcript. From there, he spent time working at a daily newspaper in Columbia County, N.Y. before moving to another Columbia—the prestigious university's graduate school of journalism.
It was at Columbia that Danny Hakim, then the Times' Albany bureau chief, spoke at one of Shannon's classes, then passed along his contact info to the professor to share with the class. Years later, Shannon sent Hakim a pitch—a first-person story about paddling around Manhattan in his kayak. Hakim connected him with another editor, and the story made it into the Times' now-defunct City Room blog in 2014.
From there, Shannon built his writing through his blog, Hudson River Zeitgeist, interviewing senior citizens who grew up in Columbia County, ultimately publishing the interviews in a 2015 book of the same name. He freelanced wherever possible, working full time at Camphill, a community for people with developmental disabilities, where he is still employed. "I'm not a monetary success, but I've got some good bylines," he joked.
Since the City Room story, he's written about the renovation of Eleanor Roosevelt's childhood home on the Hudson River; people who overcame addiction and then ran the New York City Marathon; and a Revolutionary War mystery in Lake George, N.Y., among other things.
Shannon generally does some initial reporting on his own before pitching a story, and keeps his ideas within a two- or three-hour radius of the New York metro area. "I'm attracted to things I know are really good stories, and that nobody else is paying attention to," he said. "For the Times, I have a higher bar (than for other pitches)." 
All those hours logged at the Beacon provided a firm foundation for Shannon's journalistic work. "I think overall, I was more prepared for top journalism by my time at MCLA than I was at Columbia," he said. "That's not to say Columbia doesn't have a good program. But at MCLA, with all the hands-on work at the Beacon—I learned a lot of things by making mistakes as a Beacon editor, and learning how to deal with that." 
His advice for future journalists? "If it's the thing you're meant to do, do it as much as possible," Shannon said. "Try to get as much hands-on experience as possible—through the Beacon, through internships. And make as many connections as possible. That one little connection made my stories in the New York Times possible."