Past Gallery 51 Installation
---
MADE BY HAND HOLIDAY ART SHOW
on view Dec. 5 - Dec. 28, 2019
Opening reception Thursday Dec. 5, 5pm-7pm
The Made by Hand Holiday Art Show celebrates the artwork of local and regional artists and includes sculpture, ceramics, watercolors, jewelry, paintings, cards, collages, fiber, book arts, photography, and printings. All artwork can be taken from the Gallery at time of purchase. The show is a combination of talented artisans, creative gift ideas, and a wonderful warm inviting atmosphere to shop in, all the while supporting local and regional artists.
                         
---
5 WOMEN ARTISTS YOU SHOULD KNOW
on view: September 26 - November 23, 2019
Opening reception Thursday Sept. 26th, 5pm - 8pm
Featuring the work of Laura Christensen, Sara Farrell Okamura, Diane Sullivan, Karin Stack, and Galen Cheney, this exhibit aims to highlight local female artists to the North Adams/Williamstown area. "Despite encouraging signs of women's improved status and visibility in the art world, inequality persists. There is a large gender imbalance in terms of museum exhibitions, prices, gallery representation and press coverage of women artists. 51% of the visual artists in the world are women but work by female artists make up only 3-5% of major permanent collections in the US and Europe. Only 30% of galleries represent at least one female artist. This led me to want to focus an exhibition on the amazing female artists in our region. I started over 2 years ago doing research and reviewing the work of over 200 women artists within a 60-mile radius of Gallery 51. I narrowed it down to 35 and started doing studio visits. All the artists I reviewed are amazing and deserve representation but I finally choose the five artists whose combined vision and artistic voices would amalgamate together and represent the outstanding work being done by female artists in the area. With this show we intend to shine a light on outstanding regional female artists and raise the awareness of their work and illuminating narratives they offer on the world we live in. I am grateful to Gallery 51 and Tammara Leminen for continuing with this important show in my absence.         
                                         —Arthur De Bow, Original Curator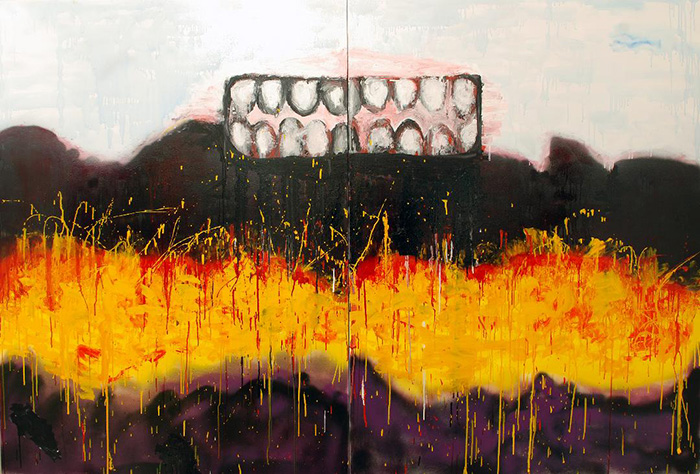 "The Jaws of Reality" by Sara Farrell Okamura
---
MAKING ONE'S MARK
on view: Aug. 29 - Sept. 21, 2019
Opening reception Thursday Aug. 29, 5pm - 8pm
Mark making describes the different lines, dots, marks, patterns, and textures we create in an artwork. it can be loose and gestural or controlled and neat. It can apply to any material used on any surface: paint on canvas, ink or pencil on paper, a scratched mark on plaster, clay or metal, a digital paint tool on a screen, the pattern in a weaving, even a sound can be a form of mark making. Artists use gesture to express their feelings and emotions in response to something seen or something felt - or gestural qualities can be used to create a purely abstract composition.
---
Jon Verney
on view: June 27 - Aug 24, 2019
Opening reception Thursday June 27, 5pm - 8pm
The exhibition will be comprised of framed photographs, altered polaroids, light-boxes and video projection. Approaching photographs as objects that can be pulled apart, dissected and dissolved, Jon presents a series of works embodying his experimentation and embracing of chance. The focus of the exhibition will be on the results and process of deconstructing a series of found polaroid snapshots. 
---
MCLA Senior Art Show
"An Inquiry into _____"
On View: April 25 - May 19, 2019
Opening reception Thursday, April 25, 5pm - 7pm
MCLA's Gallery 51 is pleased to hold an exhibit featuring the work of our current seniors.
This show will feature work from Bailey Brissett '19, Amanda Romanelli '19, Louis Torres '19, and Cheyenne VanBramer '19. The title of the exhibit reflects the individual explorations and inquiry each student has taken to understand and ask for information on mental illness, the subconscious realms, storytelling, and self-decomposition.
"The senior art exhibit is often a first formal experience in a gallery," said MCLA Visual Art Professor Greg Scheckler. "This year's investigators tracked meditations on death and rebirth, real-life satires of changing states of mind, game-like comics of fate and misbehavior, and 'fruitful' comments on social norms. Look closely; the show includes subtle surprises."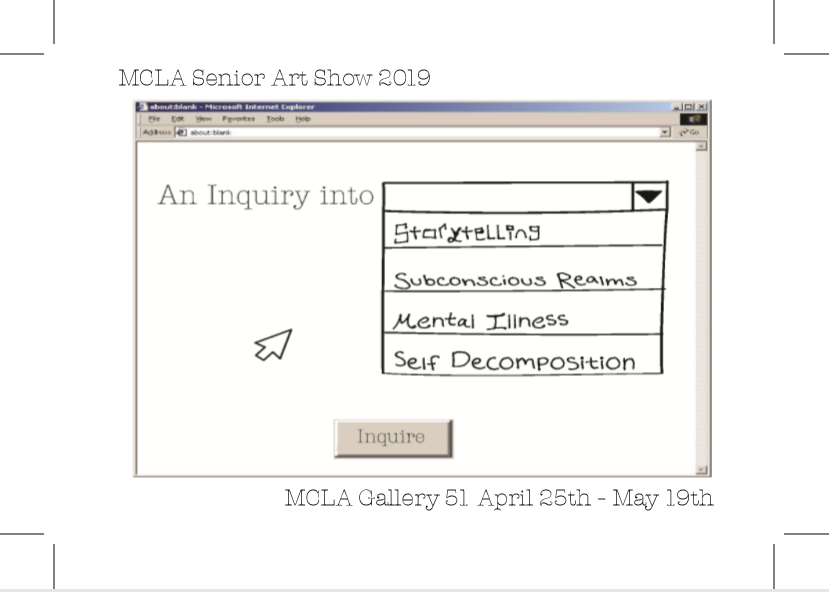 (Image provided and created by the Graduating Seniors)
---
RECONNECTING
MCLA ALUMNI SHOW
On View: March 28 - April 21, 2019
Opening reception Thursday March 28, 5pm - 7pm
MCLA Gallery 51 is pleased to announce an opportunity for alumni to exhibit their work in a group exhibition highlighting their creative pursuits since graduation. It is a unique chance for the college to present the work of our alumni in our downtown gallery, highlighting the impact of an innovative liberal arts education and our Alumni's contribution to vibrant creative communities in North Adams and beyond.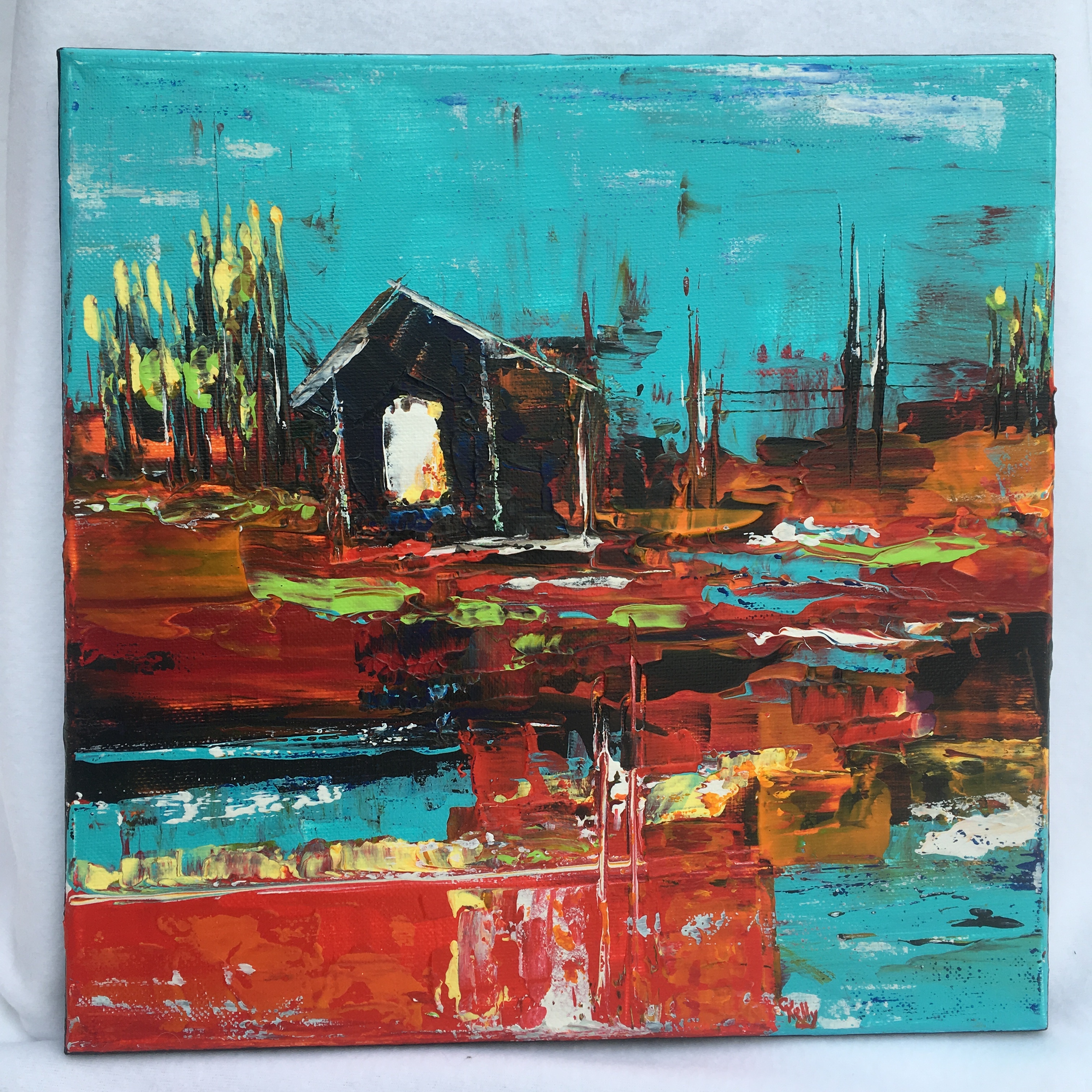 Image provided by the courtesy of artist Christina Kelly "Seaside Shack"
Colour and Form: Beauty in Abstraction
On view: Jan. 24 - Mar. 17, 2019
Opening reception: Thursday Jan. 24, 5pm - 7pm

Sarah Sutro "Landscape Composite #13," Acrylic on Canvas, 2015. image courtesy of the Artist
Press:
January 18, 2019 "Highlighting the fundamentals of abstract work" - Berkshire Eagle
February 3, 2019 "Colour and Form: Beauty in Abstraction" - The Greylock Glass
Exhibition Statement:
Abstract art is art that does not attempt to represent an accurate depiction of a visual reality but instead use shapes, colours, forms and gestural marks to achieve its effect. Abstraction indicates a departure from reality in depiction of imagery in art. The show explores the beauty, complexities and depth of abstract art and our continuing interest in it and how it inspires our curiosity about the reaches of our imagination.
Every piece of artwork has its own language, a visual vocabulary that gives it meaning, content and interest. The basic elements of this vocabulary are line, texture, shape, form, colour and value. You will find at least one, if not more, of these elements at work in abstract art that can exist with a degree of independence from visual references in the world. In a work of art, ideas, emotions and visual sensations are communicated solely through lines, shapes, colours, and textures that may have no representational significance.
Abstract art in its most simplified form, relies on the emotions of the artist and then the viewer rather than exact representation. This allows the artist unlimited freedom of expression. Abstract art has the potential to be very powerful in the way it keeps conscious distractions to a minimum. Instead of focusing on a particular image, it allows us to feel the energy in the piece. The artist may create a piece with a certain intended meaning, but it is unlikely to be viewed in exactly that way. When someone views a piece of art they take into account their past experiences, and since everyone has gone through different things in life, their interpretations will already differ. Abstraction allows us to see with our mind what we cannot see physically with our eyes. It enables the artist and viewer to perceive beyond the tangible and explore the unknown.
I believe the enduring interest in abstract art lies in its ability to inspire our curiosity about the reaches of our imagination and its potential to create something completely unique.
  - 
Arthur De Bow, Curator, MCLA's Gallery 51
  
Images courtesy of the Artist: Kathline Carr "Ley Line," Oil on Canvas.        Dawn Nelson "Floating," Water-based Oil on Canvas