MCLA Senior Art Show
"An Inquiry into _____"
On View: April 25 - May 19, 2019
Opening reception Thursday, April 25, 5pm - 7pm
MCLA's Gallery 51 is pleased to hold an exhibit featuring the work of our current seniors.
This show will feature work from Bailey Brissett '19, Amanda Romanelli '19, Louis Torres '19, and Cheyenne VanBramer '19. The title of the exhibit reflects the individual explorations and inquiry each student has taken to understand and ask for information on mental illness, the subconscious realms, storytelling, and self-decomposition. 
"The senior art exhibit is often a first formal experience in a gallery," said MCLA Visual Art Professor Greg Scheckler. "This year's investigators tracked meditations on death and rebirth, real-life satires of changing states of mind, game-like comics of fate and misbehavior, and 'fruitful' comments on social norms. Look closely; the show includes subtle surprises."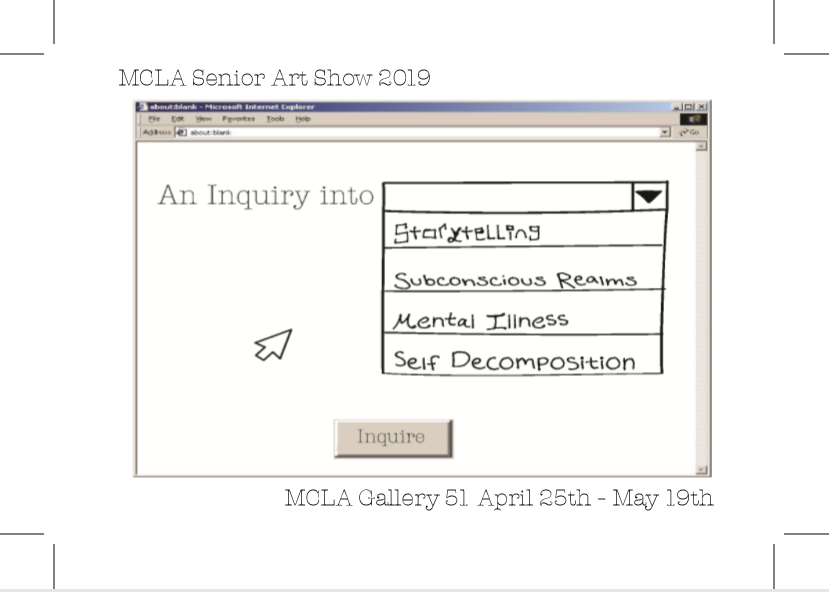 (Image Provided and Created by the Graduating Class of 2019)